When it comes to movie theatres, PVR has emerged as a leading name in India. On 20th January, 2017, PVR Group launched an innovative new service. This is Vkaao and it allows users to create or join personalized movie screening at a PVR theatre. Users can do this using the Vkaao Website or App.
Here are the main features of Vkaao:
Explore:
Users can make personalized screening of only the movies available on Vkaao. Users can easily browse through these movies using tabs like Trending, Suggested, New Releases, Award Winners, Hollywood, Bollywood, Regional etc. While creating the movie screening, users can also browse through Occassion like Birthday, Dates etc. Every movie's page on Vkaao has details about the movie like its star rating, synopsis and cast. The movies currently available include new movies as well as old gems like Jaane Bhi Do Yaaro, Dilwaale Dulhaniya Le Jaenge etc.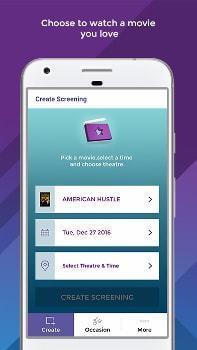 Create Movie Screening on Vkaao:
Creating a personalized movie screening is very easy on Vkaao. Just select the movie, dates and theatre of your choice. The app gives clear information about the price of the screening and minimum audience required. Just Confirm, pay and gather your friends and family to enjoy the personalized screening.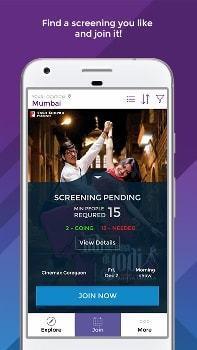 Join Movie Screening on Vkaao:
Vkaao allows users to create Private Screening or Public Screening. The Public Screenings are listed on Vkaao and other users can join it too. The Join tab allows users to browse through Public Screening available in their city. If they like the movie and time, they can join it by just clicking on the Join Now button.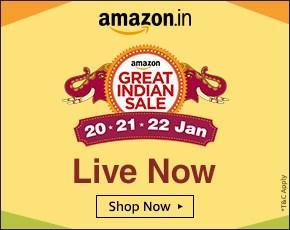 User Interface:
The user interface on the Vkaao is clear and simple. However, the app might have been made simpler. For example, you have to go into More to access the button to toggle between Explore and Create. Also, you can't explore movies based on Occasions from the Explore tab. You can only access the Occasions in the Create tab. And while choosing the movie while creating a screening, the movie gets selected as soon as you tap at its poster. There is no way for the user to check out the details of a movie in the Create tab. However, you can easily add a movie to customized screening while viewing it in the Explore tab. This is quite easy and simple.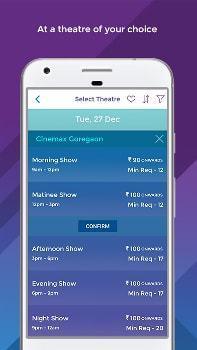 Vkaao Review:
The Vkaao service is quite an innovative idea. It could prove useful to people desiring to host private screening for their family members, friends, students or staff to celebrate an occasion. The service seems quite reasonably priced too. As per the Vkaao website, if the minimum number of tickets required for a screening isn't booked the screening is cancelled and the entire money is refunded.
The Vkaao app looks nice and pleasing, but there is scope for a simpler and more intuitive user interface.
For more information about this service, check out the Vkaao FAQs.