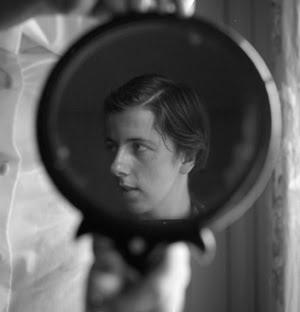 A few weeks ago I stumbled upon the story of Vivian Maier while reading my lady blog of preference, Jezebel. I needed to know more. Not that there is much information about her out there, though certainly more than what John Maloof found a few years ago after he blindly bought a set of 30,000 negatives at a furniture and antique auction.
Yes, Maloof acquired the negatives while at a "furniture and antique auction while researching a history book [he] was co-authoring on Chicago's NW Side." What came after that was the surprise discovery of this brilliant photographer, which had been stored in a ocker that had gone delinquent. With some investigation and asking around, Maloof began to realize that he had in his hands a great treasure:
"Inquiries at the auction house that had handled the sale of Maier's effects, from storage units she'd stopped paying rent on, didn't turn up any information about who she was. Maloof tracked down some of tcthe other people who had bought Maier's piures at the auction and offered to buy what they had; he eventually came to own over 100,000 of her negatives."

The story of how the photographs came to be discovered, and the sheer amount that exists is incredible. What's even more so, is the fact that for decades Maier went around photographing the children she took care of, capturing city life, producing numerous self-portraits, and even so far as to photographing Salvador Dalí, without showing one of those photographs to anyone.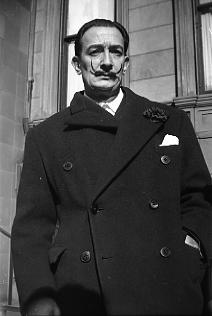 Of her life Maloof knows this:
"[She] came here from France in the early 1930's and worked in a sweat shop in New York when she was about 11 or 12. She was not Jewish but a Catholic, or as they said, an anti-Catholic. She was a Socialist, a Feminist, a movie critic, and a tell-it-like-it-is type of person. She learned English by going to theaters, which she loved. She wore a men's jacket, men's shoes and a large hat most of the time. She was constantly taking pictures, which she didn't show anyone."
Which is really not much. Of her work, well, we actually know even less. Safe for the tens of thousands of negatives she left behind, there is zero to no indication as to why she was so prolific in photographing. What is clear though, is that she had incredible talent, an incredible eye, a powerful vision rivaling many of the greats. This set hints a bit of Atget, don't you think?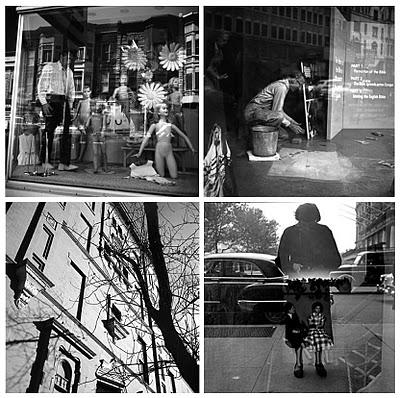 Jeff Goldstein, much like Maloof, merely stumbled upon her work by accident. Following word -of-mouth accounts of Maier at his local Chicago Flea Market. He owns over 12,000 negatives and few films that can be found on the VivianMaierPhoto Youtube channel.
I could go on and on about her life, and what she did for a living (a nanny), but her work is just so fantastic that while trying to choose a few photographs for this post I couldn't really narrow anything down. If you want to know about her story you should read John Maloof's blog or hop over to Jeff Goldstein's website. Both are good, and official, resources on her life and work in-progress. There you'll also find news on a book and film about Maier's work, both of which are upcoming. Its worth the time and effort to sift through the work that is out there and the many stories and articles that have been written so far.
For now, I'll share a few photographs that have had me fascinated with Maier for weeks. I'll start with a couple of my favourite photographs.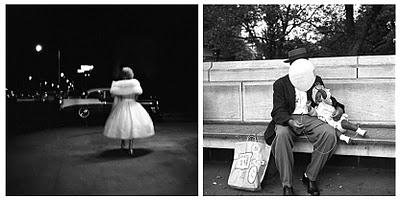 She has a set of architectural photographs that show an amazing restraint in framing cityscapes and structures. As well as her use of the hard angles and contrasting shadows.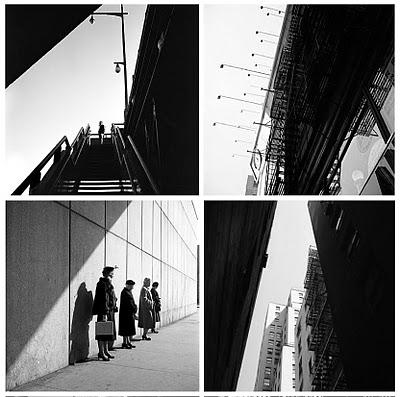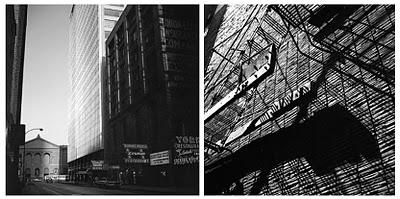 It is also known, through the photographs, that the Chicago based nanny/photographer traveled extensively. Jeff Goldstein explains:
"She documented the exhilaration of Macy's parades, along with the quiet of cemeteries, scenes of road kill, the life of flowers and her worldwide travels. In addition to Europe and the United States, those travels included places as diverse as Egypt, Malaysia, the Philippines and more."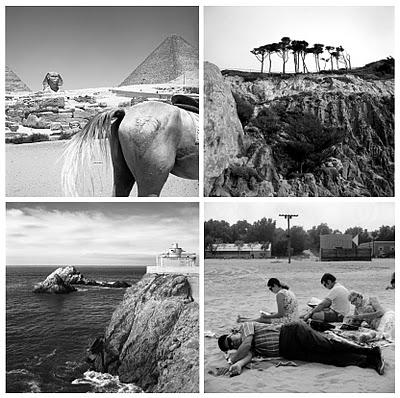 Her portraits of older ladies in extravagant furs, jewels and reluctant expressions are also quite endearing.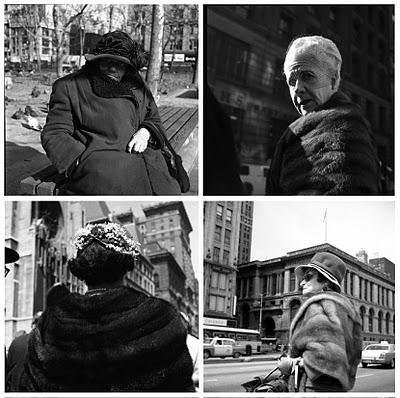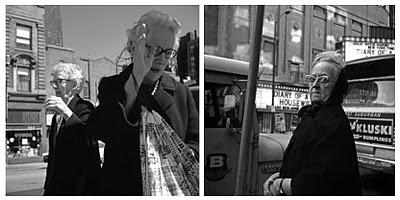 On the many children Maier features in her photographs Jessica Savitz asks:
"Childhood can be edged with violence, if only with the violence of misunderstanding.  Doesn't Maier seem at times a sort of arbiter between the innocents and death itself?"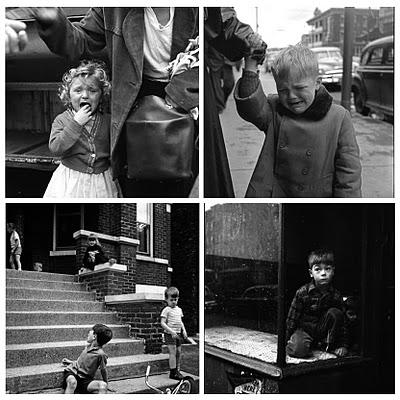 In the mid-90's Maier retired from her work as a nanny and went on to live alone and in poverty. She died in April of 2009 at age 83 following a fall she suffered on Christmas of 2008. Her photographs have such emotional pull as well as a technical discipline that in enviable, and grabbing. I can't help but show praise. Now in 2011, John Maloof is still sifting through and developing her work, of which only a fraction he and Goldstein have made available online. I can't wait for a definitive record of her work to be compiled. I can't wait to see more.
Photographs via John Maloof and Jaff Goldstein.