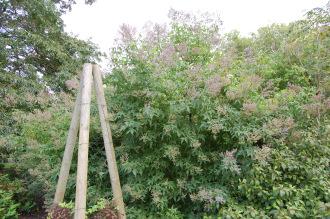 Vitex negundo (28/09/2014, Kew Gardens, London)
Position: Full sun
Flowering period: Summer to early autumn
Soil: Moist, well drained
Eventual Height: 5m
Eventual Spread: 5m
Hardiness: 6b, 7a, 7b, 8a, 8b, 9a, 9b
Family: Lamiaceae
Vitex negundo is a deciduous shrub with an upright habit. Its mid green leaves are digitate with up to five leaflets, up to 18cm across and 15cm long. Its leaflets are lanceolate with serrate margins, up to 10cm long and 3cm broad. Its bark is red/ brown . Its fragrant white to blue flowers are borne in panicles which are up to 20cm long. Its black/ purple fruit is an egg shaped drupe which is up to 4mm across.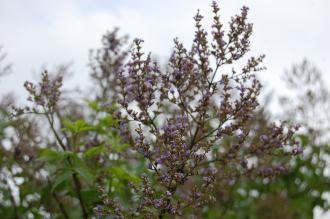 Vitex negundo Flower (28/09/2014, Kew Gardens, London)
Vitex negundo, commonly known as Five Leafed Chaste Tree or Chastetree, is native to tropical east and south Africa and Asia, including the Philippines. In its native habitat it grows in grassland, thickets and mixed open forest.
The etymological root of the binomial name Vitex is the name given to this plant by Pliny. Negundo is derived from the Sanskrit meaning 'a tree with leaves like a Box Elder'.

The landscape architect may find Vitex negundo useful as a fragrant flowering shrub with attractive leaves.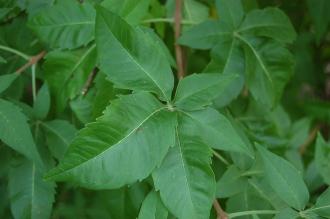 Vitex negundo Leaf (28/09/2014, Kew Gardens, London)
Ecologically, Vitex negundo flowers are attractive to pollinating insects.

Vitex negundo prefers moist, fertile, well-drained soils. It tolerates most pH of soil. It dislikes wet soils. It will tolerate poor soils.
Vitex negundo requires little maintenance. If required this shrub may be stooled on an annual basis to maintain a compact habit.