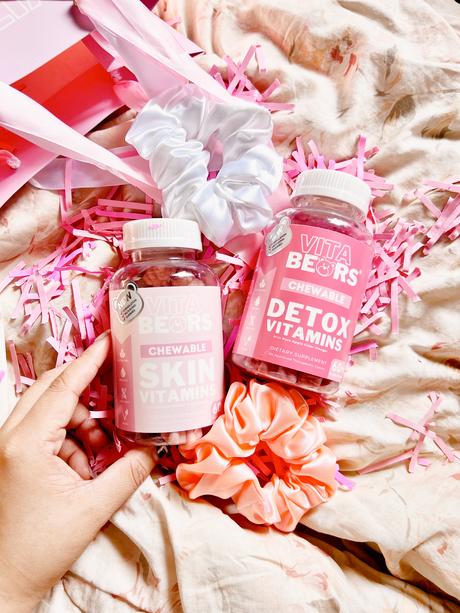 Want to achieve beautiful, flawless skin and a healthy body? Of course, you do! Who doesn't want to feel healthy and glow from the inside out? It's easy with Vitabears Chewable Vitamins. Whether you're taking them for the taste or results - you'll love them for both.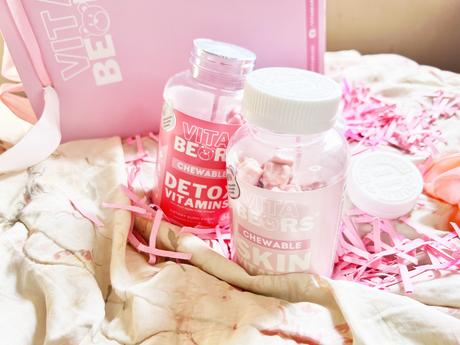 Vitabears Chewable Skin Vitamins, SRP: P635.00
These strawberry-flavored chewable are a convenient way to boost your daily nutrient intake, so you can look and feel your best. Vitabears Skin Vitamins have a healthy mix of B-vitamins, vitamin C, calcium, and zinc. These ingredients are great in stimulating the immune system and reducing the risk of acne.
Its cute strawberry-flavored gummy bears will make you look forward to taking your vitamins each day. Plus, each chew provides Omega-3 fatty acids to help protect against signs of aging like fine lines, wrinkles, and dryness.
Performance
I was able to finish a bottle of Vitabears Skin Vitamins. One bottle will last for a month. While I can't say for sure if it did whiten my skin, what I noticed is how glowy, supple, and less oily my skin has become. Imagine having just finished your skincare routine at night, that's how your skin feels like while taking this vitamin.
I usually get pimples a week before my period but, while taking Vitabears, no pimples appeared. This is because Vitamin C and Zinc repair the skin and heal wounds, resulting in less acne or pimples. It also boosts the collagen which promotes youthful skin by providing hydration and elasticity to the skin - and this is the reason behind the glowing and supple-looking skin. Basically, Vitabears Skin Vitamins has all the ingredients to make the skin healthier.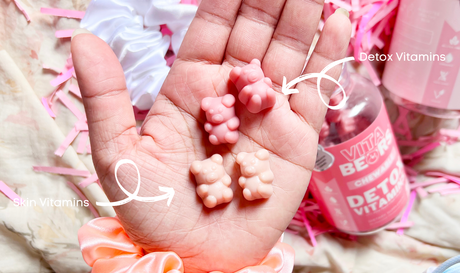 Vitabears Chewable Detox Vitamins, SRP: P650.00
If you are on a diet like me, you will definitely love Vitabears Detox Vitamins. Its active ingredients are Apple Cider Vinegar, Beet Root Extract, and Pomegranate Extract which are also the key ingredients to help you lose that extra weight.
Apple Cider Vinegar - can help acid reflux, lower blood pressure, improve diabetes and support weight loss
Beet Root Extract- improves blood flow, lowers blood pressure, and increased exercise performance
Pomegranate Extract - helps in improving gut health, digestion, and keeps bowel diseases at bay
Performance
I usually suffer from bloating and acid reflux (not that I can avoid coffee, right??!). During the month when I was taking Vitabears Detox Vitamins, the bloating and acid reflux actually lessened. My bowel movement improved as well. This is all thanks to Apple Cider Vinegar as it is known as a detoxifier and cleansing agent. It also helps the body get rid of excess water weight and encourages your body to burn fat.
But did I really lose weight? Yes, I did, I am losing at least .5 kg per week but, I am not saying that this is all because of Vitabears Detox Vitamins, 80% of my weight loss is due to my diet and this vitamin only helped me maximize the result of my diet and exercise.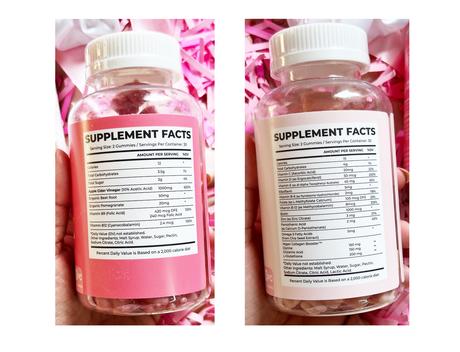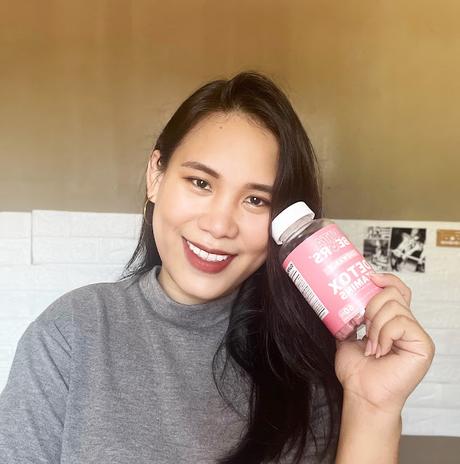 To maximize the results:
To sum things up, if you're looking to take the best possible care of yourself, the Vitabears skin vitamins are a nice step in the right direction. With their delicious flavors and healthy nutrients, they're a tasty alternative to other vitamins on the market. Whether you want a fun way to treat your body or you're looking for something more advanced in your supplement routine, these vitamins will help you gain that extra boost of health.
For more information about Vitabears Vitamins, visit their website https://vitabears.ph/