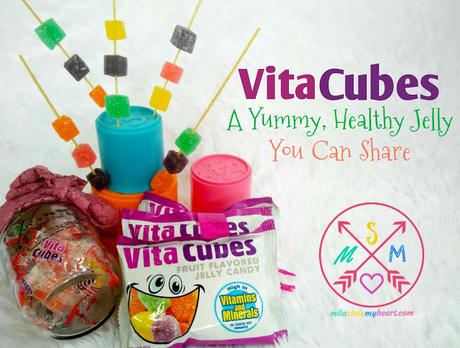 In a few days, carolers would surely start knocking on our doors. This Christmas season, I came prepared. I some yummy, healthy Vita Cubes to share with the kids. 
When I was a kid, my friends and I would go around the neighbor, singing Christmas carols. I remember one year when I even brought my Lyre with me. It was fun spending time with friends, specially by the end of the night when we get to share the money we collected. Most often than not, the money we got was used to buy candies and chocolates.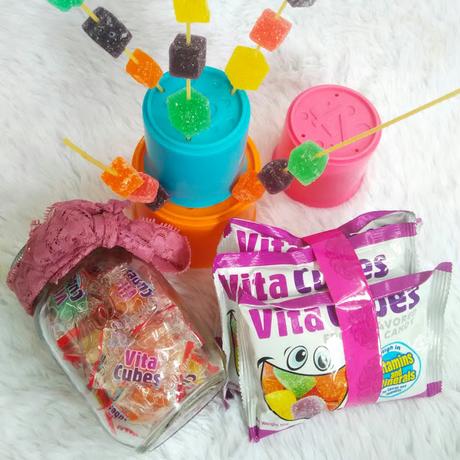 Now that I'm an adult (or at least pretending to be), it's my turn to give to the young carolers. Yes, I could always give some change to the young kids but I thought I could do better. Last week, I got a pack of Vita Cubes during the Mommy Bloggers Philippines' Christmas party. That gave me a great idea. 
Remember when we included Vita Cubes in our candy table and loot bags during Mila's 2nd birthday? It was a hit! So for a guilt-free treat this Christmas, we will be sharing Vita Cubes Jelly Candies to anyone who knocked on our doors singing some Christmas cheers.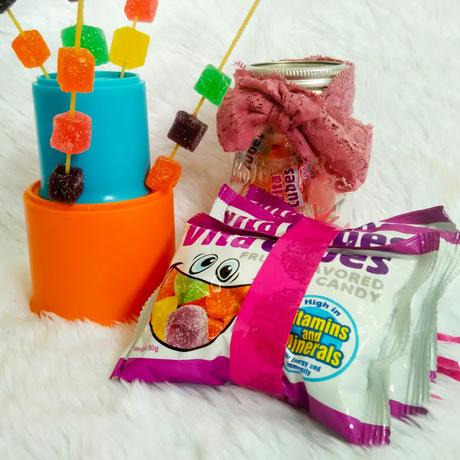 Wanna know why it's guilt free? Vita Cubes is not just yummy, it's healthy too. Check these vitamins and minerals each Vita Cubes treats have:
Lysine: contains 70% of the child's Recommended Energy and Nutritional Intake (RENI). Aids the body in proper growth and energy production. Also helps in calcium absorption.
Zinc: contains 70% of the child's RENI. Known to help in proper functioning of the immune and digestive systems, energy metabolism, and in increasing the rate for healing for wounds.
Vitamin A: contains 40% of the child's RENI. Helps in increasing the body's immunity to fight infections. Also plays an important role in ensuring healthy eyes and bone development.
Vitamin B: supplies 30 – 70 % of the child's RENI. Promotes growth and strength and stimulate memory in kids during their formative years. Helps boost the oxygen circulation in the body, especially the brain, which in turn improves circulation. Helps convert carbohydrates and fats into energy.
Vitamin C: supplies 30% of the child's RENI. Helps form and repair red blood cells, bones, and tissues. Helps your child's gums stay healthy. Strengthens your child's blood vessels, minimizing bruising from falls and scrapes. Helps cuts and wounds heal, boosts the immune system, and keeps infections at bay. Helps the body absorb iron from food sources.
Vitamin E: supplies 45% of the child's RENI. Boosts the immune system and helps the body fight germs. Keeps blood vessels open wide enough for blood to flow freely. Helps the cells of the body work together to perform many important functions.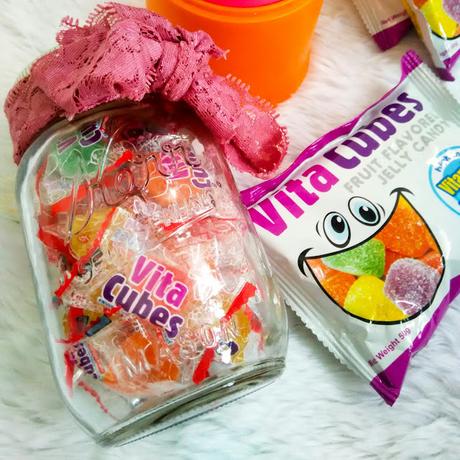 For some special kids and kids-at-heart, I've prepared mason jars full of Vita Cubes in singles packs. I'll be giving them away during my Christmas/Birthday/Thanksgiving party. This is a good idea too for giveaways and tokens during Christmas parties for friends and classmates. Just tie a nice ribbon and add a gift tag, and you're all set. The Mason jar can be reused after they've eaten all the yummy jelly goodness of Vitamin Cubes. 
Can you suggest other fun packaging you can share the Vita Cubes Jelly Candies?