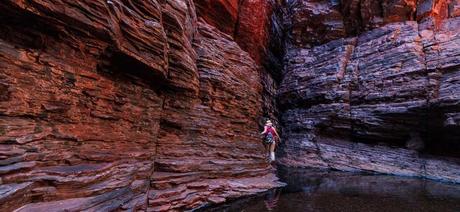 Given that most of the world is basically still closed thanks to the old 'Rona. Since you can't really do any backpacking, what better time than now to see a little more of Western Australia? We're lucky enough to live in a massive, flat, brown, massive, slab of a state - did I mention it's massive? For the English your whole country fits into WA 20.2 times and for the Americans, Texas fits 3.8 times. For context, the Karijini national park is a casual 1,373 km's from my house and that puts you about half way up diagonally from Perth to the top of Western Australia.
Yet historically it's somehow always seemed like a better idea to head off somewhere internationally than spend the time to head up North. Given our (at time of writing) hard border closure with the rest of the country - again, thanks COVID, the time to see WA is now!
The Karijini national park is in the Northwest of WA, in the Pilbara, around 2 hours drive from Newman, an hour from Tom Price. It covers a solid 627,422 hectares and is the traditional home of the Banyjima, Kurrama and Innawonga Aboriginal people.
Why go to Karijini
So why drive for 14 hours, what makes it all worth it? In a word, it's breathtaking. The landscape is some of the oldest on the planet and the combination of the deep red earth, the blue sky and the muted browns and greens of the landscape make the park a truly unique, iconic Australian experience. I also just couldn't get over the red of the dirt, it's so red it's almost like blood, a deep crimson brown that will both figuratively (and literally) stick with you for months afterwards. - The red dust clings to EVERYTHING FOREVER AND EVER AND EVER.. it's true that every visitor to Karijini will bring a little of the part back with them, intentionally or not...
Images of Karigini are stunning, but they don't do the place justice, not really, you have to be there. There are numerous sacred sites across the park, where the Banyjima, Kurrama and Innawonga people have lived for thousands of years, and it's easy to see why. I've done a fair bit of travel in my time and the gorges are literally unlike anything I've seen before. There is so much iron in the rock that it's as if the ground itself is rusting. Something else unexpected I found interesting was the sound the gravel makes when as you walk over it - it sounds more like metal than stone.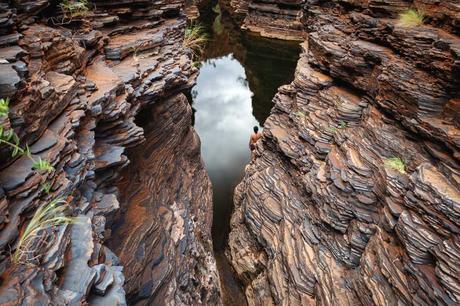 As for wildlife, we saw plenty of cockatoos and the occasional monitor lizard (which was pretty cool as he was only about 1m behind us), we also saw a few dingos and we certainly heard them. In fact, I'm pretty sure we had a few right outside our tent on the first night judging by how close their howls were. Their howls by the way were a weird cross between a wolf and someone standing on a cat's tail. So imagine that at 3am a few meters away. Lucky I brought more than one pair of jocks.
There were also spiders, centipedes, moths and grasshoppers big enough to scare a pitbull, but it was the flies that were the problem. Give me centipedes, spiders and snakes all day but by the beard of Odin, if there's one thing that gets me, it's goddamn flies. From the south (Perth)? Think you know a thing about flies? LOL.
Getting to Karijini
You can fly, which involves landing at Newman or Paraburdoo airport and driving for a couple of hours.. but that's only what you'd do if you're a god damn coward! The alternative is driving all the way from Perth, heroically conquering the Australian landscape like the turbo charged, diesel drinking hero you are. We did the drive over two days, stopping in Cue to overnight before powering on up North for another 8 hours. Get ready to drop some cash on fuel though, and I'd recommend taking some extra with you just in case (we carried around 30 liters of spare diesel just in case). On that once inside the park, the nears fuel is Tom Price which is like ~80km's away so bare that in mind when driving around the park or you'll be bartering your hiking boots with the fire twirlers two tents down for some of their fuel.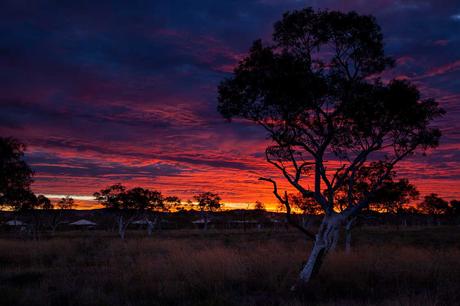 Karijini - Where to stay
Well you basically have two options, to camp or to 'glamp'. Camping costs $11 per person, glamping costs like $300+ per night so you do you. We pitched a tent at Dales Campground, which is close to Dales Gorge and Circular Pools, maybe 10km from the visitor centre. The Eco Retreat was a short drive away and had a bar which was nice. They also have showers you can use for $5 pp, which was also nice, especially on about day 3 as despite the swims in the gorges, I was starting to smell like a Dingo.
Karijini - What to Bring
5 essentials in order of priority
Water - or you'll die
Fly nets - or you'll kill yourself
Food - or you'll be hungry
Tent - or the bugs will get you
Shade - or you'll be too hot to care about anything else
Camping & hiking equipment - You know the drill, tent, sleeping bags, air mattress, good shoes and socks etc..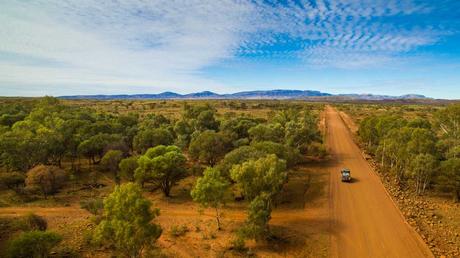 Karijini- When to go
Best bet is in winter as summertime temps get proper hot. Like easy 40+ degrees hot, which in the sun or a closed up car is realistically an easy 50+. We were there mid-October (so Spring) and after being in the sun the car's temp was sitting around 52 degrees on some of the days! The nights cool down and the water in the gorges can get pretty cold in winter but in my opinion that's better than boiling yourself during the hotter months. We visited in mid October and were probably right on the cusp on it being too hot with the day temp sitting around 38. But then again, I seem to 'run hot' so unless it's sub 20 degrees I'm usually boiling.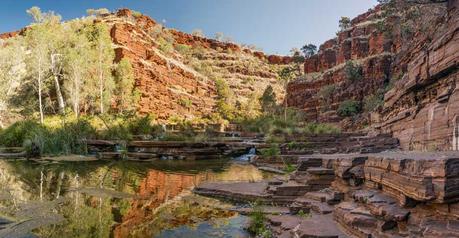 Summary
Karijini is an amazing place. It's stunning, and unlike anywhere I've been before. I've heard it described as 'deeply spiritual' so take it or leave it for whatever that's worth, but I believe the intent there was complimentary. What I do know is the landscape was worth driving 16 hours to see. It was even worth listening to my wife's music for many of those hours and that is saying something. Seriously though, it's an utterly beautiful, powerful place that reminds you just how small you are.