One of a grandparent's greatest joys has to be spending quality time with a grandchild. If you're looking for things to do in Southwest Florida, Naples Zoo is THE place to visit with kids.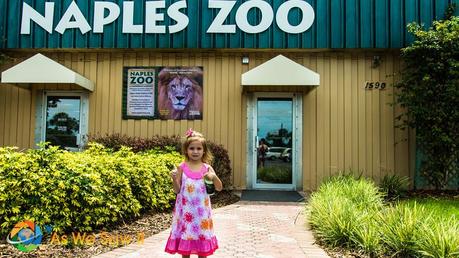 Leia poses in front of the zoo's entrance. Thumbs up! She had a great day.
In Naples Zoo, you'll find exotic animals surrounded by the mature trees and exotic plants of a historic tropical garden founded in 1919. As the botanical collection was planted fifty years before the animals were introduced, the exhibits carefully maximize the space around decades old trees. Because of this special need to conserve space, you will be very close to the animals — often just three or four steps away!" – Naples Zoo Society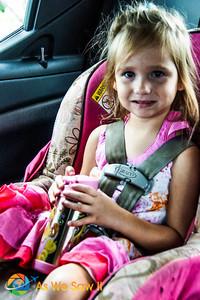 Leia is bucked in and ready for her big visit to Naples Zoo
Leia's older brother Luke had a school field trip to the zoo, but why should he have all the fun while we stayed at home? We had a great idea: Why not take her there, too?
So after buckling our precious bundle of joy energy into the car seat, we took off for a zoo visit.  Parking was easily accessible and more than enough for a weekday; we could even park under a tree!
Leaving the parking lot we crossed a short bridge over a lake loaded with fish and turtles.  Lakes contain that most powerful magnet for any 4-year-old, WATER. Obviously we had to pause so Leia could check them all out before we got to the entrance and gift shop.
This zoo stands on 43 acres of land that were once a private botanical garden, and it still boasts an impressive collection of plants and landscaping.  Admission entitles visitors to daily shows and Meet the Keeper events, a Primate Exhibition Cruise, and of course the animal exhibits.
HINT: The first Saturday of the month, entrance is free!
It wasn't the first Saturday of the month so we paid our entrance fee and got our hands stamped inside the door.  That stamp entitled us to re-entry all day.
We spent quite a while looking at animals, partly because we had to keep lifting Leia up to see.  She was just a little too short to see over the walls herself.  Not that we minded, of course….
Feeding the Giraffes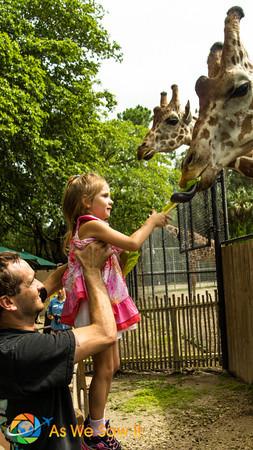 Feeding the giraffes is one of the best photo opportunities at the zoo. The priceless photos of a granddaughter are worth the price of the lettuce.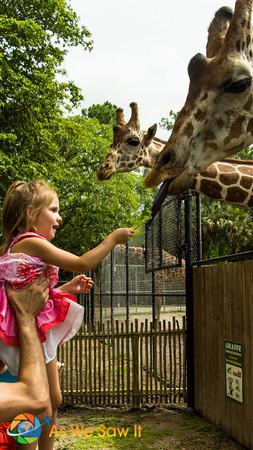 Leia's expression as the giraffe gratefully accepted her offering made us almost want to buy another set of lettuce leaves.
The zoo has found a great way to feed some of the animals and make money at the same time. Feeding the giraffes is a very popular activity and a highlight for many visitors.
The kiosk at the exhibit usually has a line of people waiting to buy giraffe food. Happily, it moves fast. Leia handed the attendant a $5 bill and received three lettuce leaves.
We then joined the next line: people waiting to enter the feeding area and get their turn with the animals.
When her turn came, the attendant directed us to one of the giraffes who would enjoy her treat. She carefully fed one leaf at a time. All too quickly they were gone and it was time to let the next kid have a turn.
Food and drink
Feeding the giraffes gave her tummy ideas and she told us she wanted something for herself. Like most attractions in Florida, the food at this zoo is rather pricey, so she was only permitted a cold drink in a colorful, reusable kid cup. Linda enjoyed a watermelon sno-cone, which hit the spot in the heat of a Florida summer.
If the menu items don't fit into your budget, remember that Coastland Center is just across the street and there are a lot more choices in its food court.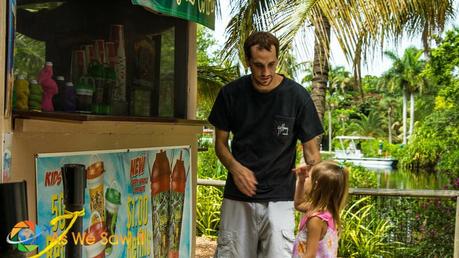 Time to feed the daughter … A drink in a colorful glass was her choice.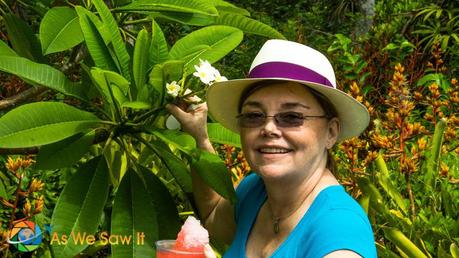 Nana gets a wonderful surprise when she finds the same fragrant frangipani trees that she loved back in Bali, Indonesia
Lions and Tigers and Bears … Oh, My!
Yes, lions, tigers and bears are among the zoo's inhabitants. Other big animals include big cats like the jaguar, cheetah and a black puma. Elephants, gazelles, zebras, monkeys and porcupines round out the complete African Safari experience, and you'll get to see even more monkeys on the Primate Expedition Cruise.
Don't think that the zoo only has mammals, though.  They have snakes like the bushmaster, which lives in our neck of the woods (Ecuador), the local cottonmouth, and even tiny little things like the colorful poison dart frogs. You can find a list of their other plants and animals online.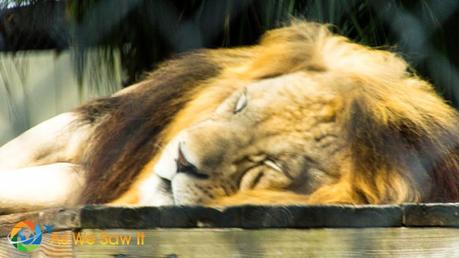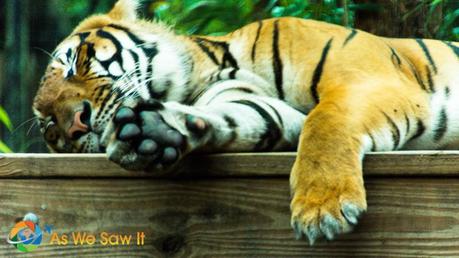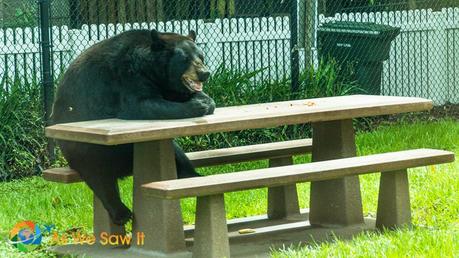 Black bear sitting at a picnic table … Is that you, Yogi?
A great time for granddaughter Leia and grandparents Dan and Linda
If you're in Southwest Florida, you should definitely put the Naples Zoo on your list of things to do with your grandchildren. With its convenient location, activities like feeding giraffes and a pontoon boat ride to the animal shows, it's worth the time. Everyone will benefit from spending quality time learning and teaching each other.
Anyway, what could be better than grandparents taking children to the zoo?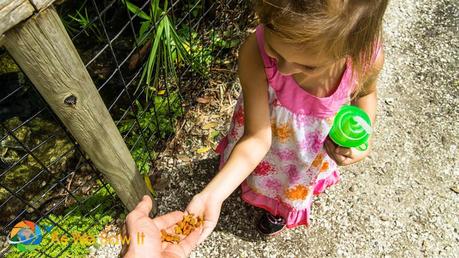 Pap helps Leia feed the fish.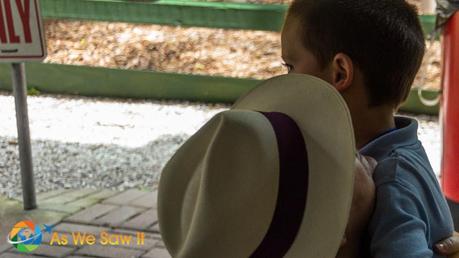 A surprise! Luke is on a field trip and sees his Nana … Hugs are in order.
How to visit Naples Zoo
Naples Zoo at Caribbean Gardens is open every day from 9:00 am to 5:00 pm.  It is located at 1590 Goodlette Road North, right across from the Naples Coastland Center shopping mall. Entrance fees are $20 per adult and $13.00 for children. Parking is usually available,but if it's full, park at the mall and walk across the street at the traffic light.
Want to see more photos of the zoo?
If you're considering a visit, take a look at our gallery of pictures from our day at the zoo.