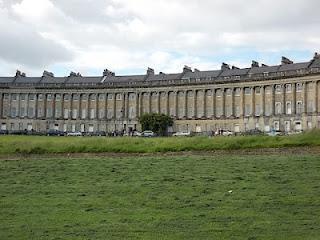 Bath - The Crescent
Bath - 
One does not love a place the less for having suffered in it
On my tour of England from north to south last year (HERE) I couldn't complete my Jane Austen pilgrimage, since my friends and I were following more than one trail (Richard III, movie locations, literature, abbeys and cathedrals) and each of us had put her own special goals on our common schedule. This is why we decided we would complete my Austen tour this year  visiting the South – West region of the Island and  starting from Somerset (we landed in Bristol),  more precisely  from Bath.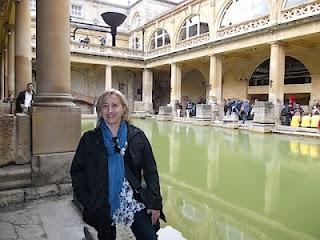 Me at the Roman Baths
The most common opinion on the years Jane Austen spent in Bath wants them unhappy and unproductive.
Jane arrived in Bath with Cassandra and her parents in 1800, after her father had unexpectedly announced his desire to retire from the ministry. Young Jane must have been really depressed if not shocked, though Bath was not and is not an unpleasant place .
Those (1800- 1809) are the years of The Watsons, which she left unfinished, of
Harris Bigg-Wither's proposal (her only marriage proposal for what we know), which she rejected, but those are tragically and especially the years when her father died and left Jane, her mother and her sister doomed to live on the financial contributions of the Austen men.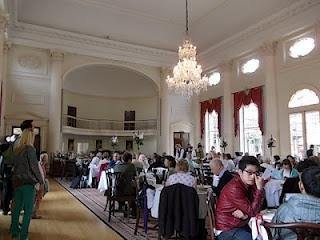 Bath - The Pump Rooms
All those are the reasons  why I couldn't imagine Jane being very happy there, while visiting Bath last week, on July 19. I loved the place, which is enchanting,  but my Austen-related thoughts were  not positive.
Then, a quote from Persuasion  came to my mind 
"One does not love a place the less for having suffered in it, unless it has been all suffering, nothing but suffering". At the same time I
 started thinking about Catherine Morland  and Ann Elliot and about their happiness in Bath. That helped to switch my mood from melancholic to calm.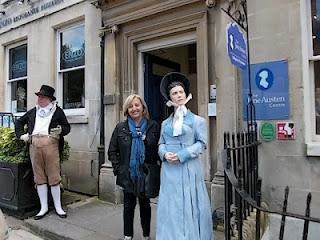 Between Jane and Martin the Senior Meeter/Greeter
Jane's wanted her creatures happy, her lovely heroines  in 
Northanger Abbey
 and 
Persuasion
  were happy right there in Bath.
Seen through their eyes,  the town  became a much more exciting place: The Pump Rooms, The Assembly Rooms, The Crescent or The Circus got all a special charm.
My first goal was The Jane Austen Centre, of course. My friends were really kind to accompany me, though either they had already been there or were not actually interested.  I wasof course really happy to start my tour from there (see picture on the right) . 
And yes, you've got it!  I couldn't resist buying some souvenirs in the lovely shop downstairs. I had already bought gifts online from them but being and buying there live was really exciting. What stopped me from buying more cuteness was the baggage weight limit on the flight back home.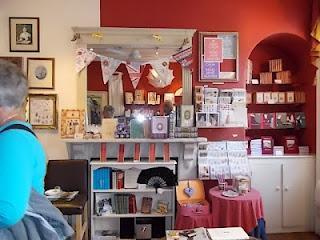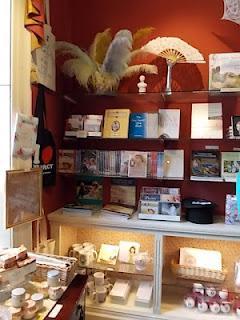 After that , we visited the Roman Baths and the Pump Rooms, the cathedral and the shopping area nearby, then we walked towards the Assembly Rooms (didn't visit the place nor the Fashion Exhibition, though), then crossed The Circus and headed to The Crescent. All those places are fortunately quite close to one another so that you can easily visit them in one good walk.
I want to go back to Bath to see what I haven't yet (the Assembly Rooms and the several places in the town where Jane Austen lived) and I'd love to do it in September - if not this year  sooner or later - so that I can take part in The Jane Austen Festival they hold annually. That would be wonderful!
Lyme Regis – Do the seagulls ever sleep?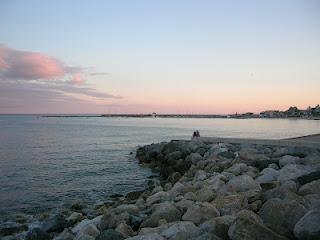 Lyme Regis at sunset - Photo by Mamma_T
The following day we left Bath and Somerset and drove through Wiltshire, directed to Dorset. After visiting Old Sarum in the morning and Corfe Castle in the afternoon we arrived at Lyme Regis just in time for dinner.
We left our baggage at the incredibly atmospheric B&B by the sea we had booked and went to a nice pub to have a very English dinner. 
Walking along the beach soon after eating was definitely pleasant. It was a Friday night, there were several people but not a crowd.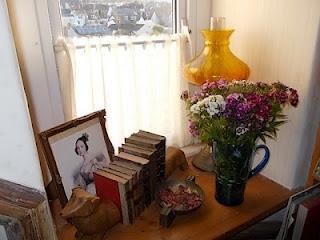 A corner at our B&B in Lyme Regis
Accompanied by the constant presence and persistent, 
weird, high-pitched screech 
of hundreds of seagulls, but caressed by a cool wind and the red sunbeams of a mesmerizing
sunset
, we walked as far as The Cobb and just had a look at the infamous "Granny's teeth" from where Louisa Musgrove fell so theatrically in the pages of Persuasion.  Did we want to go up?
"Better to try tomorrow in the daylight"
, we thought. Then,
"What about waiting for a Captain Wentworth's apparition"?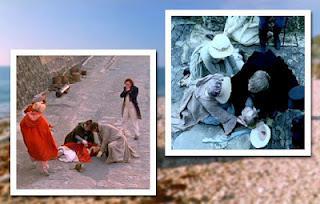 Louisa's Fall in Persuasion movie versions - from Austenitis
We postponed our Persuasion – style adventure to the next day and went back to our lovely B&B where thousands of books and a little portrait of Jane Austen near the bed where waiting for us! I was stunned by that place: cute, comfortable, crowded with incredible books, coloured, cosy: The Book Lovers'Bed & Breakfast made our stay in Lyme Regis simply unique.
First thing the next day we went to Ottery St. Mary - a small village nearby where Samuel Taylor Coleridge was born - then to Charmouth, Jane Austen's favorite walk when she was in Lyme, and Mary Anning's favorite place to search for fossils and dinosaurs! Skeletons of dinosaurs. Have you read "Remarkable Creatures"?
After a nice walk looking for ammonites, which we didn't find and which our guide book said it was highly reproachable to dig and collect,  we went back to Lyme Regis late in the afternoon to experience the thriving adventure of climbing or descending the Granny's Teeth.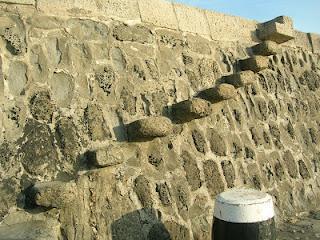 Lyme Regis - Granny's Teeth (picture by Mamma_T)
We thought the place would be as quiet as the night before, only with much more light. Instead,the place was overcrowded with merry people watching a sports show with loud music and a radio DJ-style presenter. The crowd on The Cobb, the beach and all around the harbor was cheering, shouting, applauding the acrobatic stunts of young people skating and skiing on the water. Did we really want to achieve our enterprise (a comical fall down?)  in front of all those people?
My friends did it. It was not comical but funny enough  and  luckily no one fell down. As for me, I couldn't do it. I felt dizzy and paralyzed after climbing the first three  steps from the ground. I had to stop and the only achievement for me was  a picture on those steps, carefully taking my back attached to the wall. Not very brave, I know. I simply am not and I can't act what I am not. Maybe Captain Wentworth's presence would have made me more daring. Just maybe. But he wasn't there nor nearby.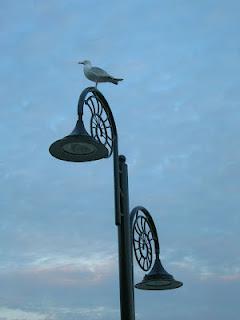 Do you think Jane Austen tried those steps? Why did she choose to make Louisa fall down from up there? She might have witnessed someone fall while staying in the little village by the sea in Dorset.
Lyme Regis is lovely and romantic, not when it is  overcrowded, though . Better to avoid going there at the weekend, if possible.
I loved my room with a view on the sea, the walks along the beach  at the sunset, the views and the hospitality .  Just one little complain:  if only they could send the seagulls to sleep  between... let's say midnight and seven a.m.   Maybe a visitor could sleep at least 7 quiet hours. Could you gently ask the seagulls, please? 
Maria Grazia