news , information,business,investment,helth
 news,business,politics 
news and information
Vision and Mission Statements Overview
 You must understand the nature and role of vision and mission statements in strategic planning.
Review this Pinterest lesson: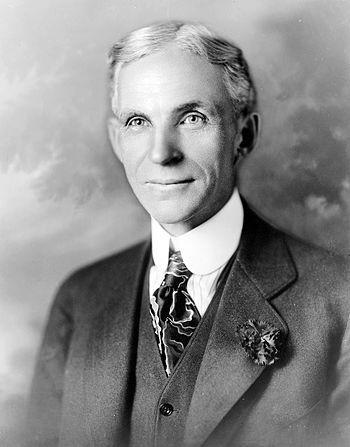 Portrait of Henry Ford (ca. 1919) (Photo credit: Wikipedia)
http://www.pinterest.com/pin/237213105348112140/
Mission statements have common characteristics and components that should be included in the statement.
You should find your company's vision and/or mission statement on their corporate website.
You will become proficient in devising and improving vision and mission statement documents.
Learning Objectives:
1.   Describe the nature and role of vision and mission statements in strategic management.
2.   Discuss why the process of developing a mission statement is as important as the resulting document.
3.   Identify the components of mission statements.
4.   Discuss how clear vision and mission statements can benefit other strategic-management activities.
5.   Evaluate mission statements of different organizations.
These are the essential components of a mission statement:
1.  Customers
2.  Products or services
3.  Markets
4.  Technology
5.  Concern for survival, growth, and profitability
6.  Philosophy
7.  Self-concept
8.  Concern for public image
9.  Concern for employees
Do the following mission statements have all of the essential components?
*Barnes & Noble
Our mission is to operate the best specialty retail business in America, regardless of the product we sell. Because the product we sell is books, our aspirations must be consistent with the promise and the ideals of the volumes which line our shelves. To say that our mission exists independent of the product we sell is to demean the importance and the distinction of being booksellers. As booksellers we are determined to be the very best in our business, regardless of the size, pedigree or inclinations of our competitors. We will continue to bring our industry nuances of style and approaches to bookselling, which are consistent with our evolving aspirations. Above all, we expect to be a credit to the communities we serve, a valuable resource to our customers, and a place where our dedicated booksellers can grow and prosper. Toward this end we will not only listen to our customers and booksellers but embrace the idea that the Company is at their service.
*Estee Lauder
The guiding vision of The Estee Lauder Companies is "Bringing the best to everyone we touch". By "The best", we mean the best products, the best people and the best ideas. These three pillars have been the hallmarks of our Company since it was founded by Mrs. Estee Lauder in 1946. They remain the foundation upon which we continue to build our success today.
*Family Dollar Stores
For Our Customers A compelling place to shop. . . by providing convenience and low prices For Our Associates A compelling place to work. . . by providing exceptional opportunities and rewards for achievement For Our Investors A compelling place to invest. . . by providing outstanding returns.
*FedEx
FedEx will produce superior financial returns for share owners by providing high value-added supply chain, transportation, business and related information services through focused operating companies. Customer requirements will be met in the highest quality manner appropriate to each market segment served. FedEx will strive to develop mutually rewarding relationships with its employees, partners and suppliers. Safety will be the first consideration in all operations. Corporate activities will be conducted to the highest ethical and professional standards.
Ford Motor Company
We are a global family with a proud heritage passionately committed to providing personal mobility for people around the world.
Source:  Based on http://www.missionstatements.com/fortune_500_mission_statements.html
 Evaluation Matrix of Mission Statements–Solutions
Evaluate these mission statements using these Matrix: Fill in the missing data where you see a ?
Components AAuto B&N ELauder FDollar FedEx Ford
Customers ? ? ? ? ? ?
Products Yes No Yes Yes Yes ?
Markets No ? ? ? No  ?
Technology ? ? No No No ?
Concern for   Survival, Growth, Profitability No No ? Yes ? ?
Philosophy ? Yes ? ? Yes  ?
Self-concept Yes Yes ? Yes ? ?
Concern for public   image Yes ? ? No Yes ?
Concern for   employees ? Yes Yes ? ? ?
 Now find your company's mission and evaluate it using the table above.
PepsiCo's mission is given on their website as follows:  "To be the world's (3) premier consumer products company focused on convenient foods and beverages (2). We seek to produce financial rewards to investors (5) as we provide opportunities for growth and enrichment to our employees (9), our business partners and the communities in which we operate (8). And in everything we do, we strive for honesty, fairness and integrity (6)." (www.pepsico.com)
Improved Mission – Includes all nine components.
"To be the world's (3) premier consumer products company focused on convenient foods and beverages (2). We seek to produce financial rewards to investors (5) as we provide opportunities for growth and enrichment to our employees (9), our business partners and the communities in which we operate (8).  We strive to use the latest technology (4) to deliver outstanding products at low prices (7) for our customers (1).  And in everything we do, we strive for honesty, fairness and integrity (6)."