It's summertime and we're free to roam the country once again and have fun outside again. That means it's time to upgrade your footwear to anything other than flip-flops and house shoes. Who better than a footwear website to highlight the essential summer shoes you'll need to navigate your summer travels. Get your pedicures ready because the summer footwear offerings from Viscata Barcelona are the classic and sophisticated styles that'll complement all of your summer looks.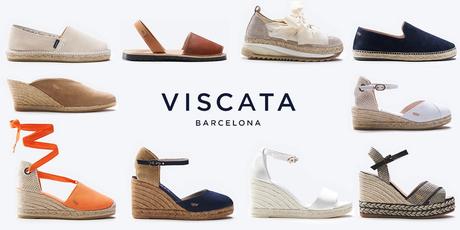 Viscata Barcelona is a premium espadrille brand that's sure to be your go-to shoes for the summer. These gorgeous espadrilles are handmade in Spain and capture the vibrant Mediterranean spirit through superior craftsmanship, comfort, and style. It's a mix of traditional artisan fashion with a modern twist that brings to life forward-thinking design trends.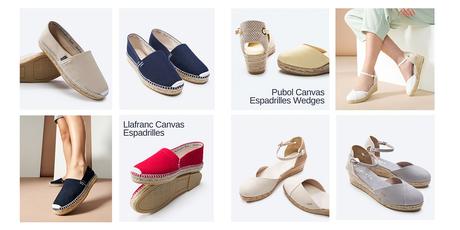 THE CLASSICS: LLAFRANC
If you're looking for a classic Spanish espadrille this year, then look no further than Viscata Barcelona's traditional Llafranc espadrilles. This is the shoe that comes to mind as soon as we hear the word espadrille. With its traditional white stitching (for an authentic Mediterranean vibe), these shoes also feature a 100% natural jute sole, a comfortable leather cushion, a breathable canvas upper, and an elegant design. These fun, practical shoes are easy to pack and super comfortable. The Llafranc is available in a range of fun colors that are guaranteed to dial up the fun in your wardrobe.
THE NATURALS: PUBOL
All of Viscata's canvases are 100% organic and GOTS certified. These classic Pubols, like all of their shoes, are made by hand in Spain using traditional techniques. Not only are they classic, sleek, and charming, but they also feature a flattering V-cut vamp and a sturdy 2" heel for extra comfort. Built on an all-natural jute sole for fresher feet and made with 100% natural GOTS certified organic canvas, the Viscata Barcelona Publo's are available in a range of colors. This style also comes made from natural dyes that look gorgeous without harming the planet.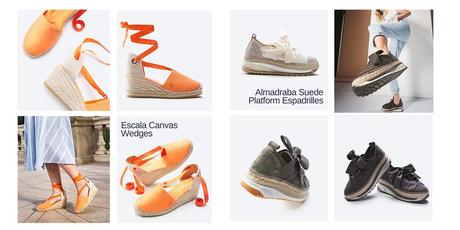 THE BRIGHTS: ESCALA
Fun, flirty, and gorgeously colorful, these Escalas are Mediterranean beauties that capture the Barcelona vibe with their 2 1/2" natural jute heels, effortlessly chic style, and leather-lined, cushioned inner soles. But the real fun here is the soft, sleek ankle laces. Each pair comes with long laces for easy tying and effortless style. And because everybody's different and we all have a unique style, Viscata slipped an extra pair of even longer laces in the box as well. Comfort and style all in one cool, casual style.
FUN & STYLISH: ALMADRABA
Last year's big hit was the Sneakerdrille - part sneaker, part espadrille but 100% funky. Their Almadrabas combine the ultra-comfort of a standard sneaker sole, but with all the Spanish style of an espadrille. Comfortable and cute, those pretty bows aren't just there for good looks. As beautiful as they are, they're fully adjustable so that you can get the perfect fit. These are the ideal shoes for those who like to keep things casual.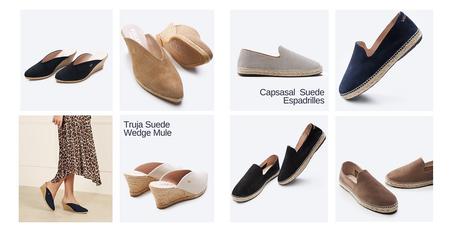 FOR WEEKEND BREAKS: TRUJA
The super cool Truja canvas wedge mules feature a modern V-vamp, echoing the pointed toe on Viscata's most stylish canvas wedge mules. These versatile shoes are perfect if you want to add a touch of style to your weekend break. Easy to pack, just slip a pair of these into your weekend bag to instantly transform your casual daytime outfits into sophisticated Summer style icons. Slip them on, look sharp and head out into the night with these casually chic shoes, so versatile you can wear them whatever the occasion - under sunny skies or on sultry Summer nights.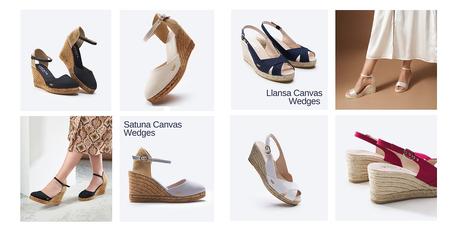 FUN & FLIRTY: LLANSA
Summer is the time for flirting and there are no more flirty shoes than Viscata Barcelona's sassy and stylish Llansa canvas wedges. Move easily from sunny days to stylish nights in these gorgeous 2 1/2" tall, ultra-flattering sling-back heels. With an elegant metal buckle, 100% breathable soft organic cotton canvas, and 100% natural jute, these shoes are both comfortable and cool. Their easily adjustable ankle strap and sexy open-toe make them the perfect shoes for Summer fun. Available in a range of cool Summer colors, life's better in a pair of Llansas.
CHIC & SEXY: SATUNA
Viscata Barcelona's sexy Satunas could become your favorite wedge of the Summer. Sassy, sophisticated, and super stylish, they stand tall on a 3 1/2" wedge heel. Made of 100% GOTS certified organic canvas, these shoes are kind to the planet without compromising in style or quality. They also feature an easily adjustable ankle strap. Handmade with love in Spain.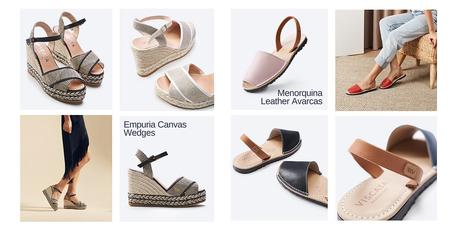 CRUISE READY: EMPURIA
Finding the right shoes for a cruise can be challenging. Lots of occasions to dress up for, limited space to pack, and lots of people to impress. You'll need to make the most of your wardrobe if you're going to impress at the Captain's table. Slip a pair of the Empuria sandals into the mix and you won't go wrong. With a glamorous 3 3/4" espadrille wedge heel with an elegant ankle strap, cross-band toe box, striking bicolor soles, and leather lining, these shoes will be at the top of your list for all occasions. Step out in a pair of these and it will put a smile on your face. Perfect for when you need to look casual but stylish. It's all in the details.
BEACHY STYLE: MENORQUINA AVARCAS
Step out in style at the beach in these gorgeous leather Avarcas; they are handmade by artisans in the tiny Balearic island of Menorca, off the coast of Spain. They may just be the chicest classic espadrilles ever made. They've added a premium leather upper, a durable rubber sole, and even an anatomic insole for the ultimate comfort. This style is perfect for those who want to ditch flip-flops. They are the ideal shoes to wear to the beach before an evening around town searching for the perfect sunset.
This article also appears on www.mylifeonandofftheguestlist.com