Anthony's Restaurant Rating:
35/100 X
Welcoming:3/10 Menu Choices: 8/10 Food Presentation: 6/10
Food Temperature: 7/10 Food Taste: 3/20 Service: 3/10
Ambiance/Music: 2/10 Architecture/Interior: 2/10 Air Quality: 1/10
Total: 35/100

More about:
Vis a Vis
On the way to the hot springs of Maiin, we stopped by Vis a Vis, located on the first floor of a building. We entered an empty space that was not lit, while Arabic music played in the background. Although they were expecting us, our table was not ready. We had to endure the extrutiating sounds of moving tables, chairs and clinking plates and cutlery…The first impression was not good, to say the least.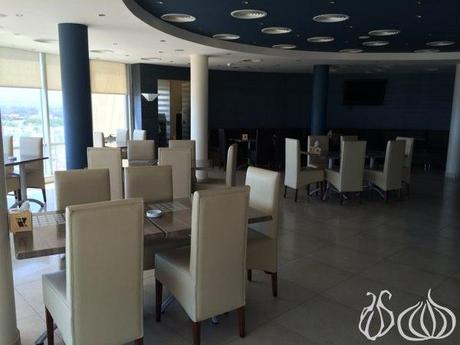 The restaurant motto:
"We are one of the few that will stay new". I didn't get it… and honestly didn't feel it anywhere in this place. You can choose to have anything you might imagine: Local, Mediterranean, Italian, French, pizza, burgers and much more. Take a deep breath and start browsing the 100 page menu. The menu was a mess… pages with pen drawings, white stickers, others were torn and dirty. All I can say: Disgusting. The staff, what can I say. They are better off working on the fields somewhere far from the hospitality industry. With zero know how and any savoir-faire, they don't have any answers to anything. They don't know what's in the menu, they type of food this restaurant serves, where to get the menus from or the selection of drinks.
Enough complaining I hear you say… let's see what the food is all about.
We went for the Lebanese or as some like to call it the Mediterranean selection. Some hummus, moutabal, fattouch, tabbouleh, pickles and labneh landed on our table while we waited for the other items to arrive.
Hummus, other than the fact that I found a hair inside, was kind of tasteless
Lebanese bread was dry… it has definitely been produced more than three days ago
The makanek only tasted of garlic…why would makanek have garlic in it to start with?
The stuffed vine leaves were fine
The Potato cubes with pepper and spices were too oily
How can a fattoush be bad; the fried bread was too thick and too spongy
Fried cheese sticks were not the best especially that the cheese inside was not melted
The Kebbe, well, it's a 'no' without going into too many details
Labneh! How hard is it to make some good labneh? Unacceptable: They better call it fade cream cheese with mint and lemon.
The only thing enjoyed was the meat plate served with grilled canned mushrooms. The meat was tender and the grilled mushrooms were seasoned nicely in oil and that was it… So we were done with the appetizers then continued to try their mixed grilled platter of meat, Kafta and tawouk. The meat was way too fatty and chewy, the Kafta was too oily and too spicy and the chicken smells garlic a kilometer away.
The minuses:
The Arabic music playing in the background was not my style
In this completely closed space, people were smoking their Arguiles openly. We had a smokey lunch
All plates served did not look fresh. They look like they have been prepared in advance and left in the fridge
Nothing was tasty
The service was bad
I'm not sure why they chose this restaurant, but if it was to enjoy the food and tell our friends about coming here… then forget it.

























Pages  [
1
]  [ 2 ]  [ 3 ]