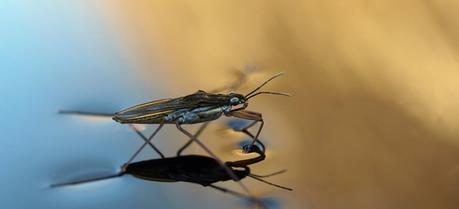 The proposed technology is based on the same principle that helps water striders move on the water surface. (Credit: Flickr @ Orest Shvadchak http://www.flickr.com/photos/orestart/)
Researchers at the University of Missouri are working on a new technology to stop oil spills, using something they call a virtual wall. This technique has already allowed scientists to confine oily liquids to a certain area, aiding the study of these complex molecules.
"Our work is based on micro/nanoelectromechanical systems, or M/NEMS, which can be thought of as miniaturized electrical or mechanical structures that allow researchers to conduct their work on the micro/nanoscopic level," said Jae Kwon, associate professor of electrical and computer engineering in the College of Engineering at MU. "Oil-based materials or low-surface tension liquids, which can wet any surface and spread very easily, pose challenges to researchers who need to control those tiny oil droplets on microdevices."
Surface tension is a contractive tendency of the surface of a liquid that allows it to resist an external force. It is revealed, for example, in the floating of some objects on the surface of water, even though they are denser than water, and in the ability of some insects to run on the water surface. This property is caused by cohesion of similar molecules, and is responsible for many of the behaviors of liquids.
Oil-based compounds are referred to as low-surface tension liquids because they tend to spread on the surface of a researcher's microscope slides or microarrays where the liquids are placed. Additionally, as can be seen from oil spills in the Gulf of Mexico, oil can stick and easily spread out on any surface. Using specially designed oil-repellent surfaces, Kwon and his group demonstrated invisible "virtual walls" which block spreading of low-surface tension liquids at the boundary line with microscopic features already created in the device. Such invisible walls can be potentially used to stop oil spills.
"Our newly developed surface helped keep oil, which is normally unmanageable, in predetermined pathways making it controllable. We feel that oil-repellant surfaces can be widely utilized for many industrial applications, and virtual walls for low-surface tension liquids also have immense potential for many lab-on-a-chip devices which are crucial to current and future research techniques."
Kwon suggests that in the future, oil-repellent virtual walls may be used to stop oil spills from happening and to make oil transportation safer.
In September, we reported how oil-eating bacteria can be used to combat oil spill disasters.
Almeida R., & Kwon J.W. (2013). Virtual walls based on oil-repellent surfaces for low-surface-tension liquids.

Langmuir, 29

(4), 994-8 PMID: 23311883