The World Mother is the most sublime aspect of creation. She is the unlimited light of consciousness that emerges from the background of existence as the pure virgin nature. Virgo represents this aspect of the Logos as Mother. From there, the creation emerges in four states. They are called the stages of utterance of the Creator. The objectivity is the fourth state; three states of emanation of the Word are hidden in the subjectivity. The objective state is like the vocal sentence of our speech. Prior to that, there is the mental sentence coming from an idea, and prior to that the idea emerges from consciousness.
To depict the World Mother I transformed the photo of a statue of the Mother standing at the Godavari River in Rajahmundry, India. The four states of the Word are illustrated by different circles. At the heart center and in the background you see the Sri Yantra, a symbol of the Mother, which contains the wisdom of the goddess.
The "landscape" where the Mother is standing is created with a lotus flower. For the background colours I used the photo of a sunrise in the Nilagiris. The stars of the Pleiades constellation, the seven Mothers, are generated with the help of the Stellarium software.
See more pictures on the site with my paintings. If you want to print the image, you can download the file in medium and high resolution format.
The different zodiacal signs are clustered in groups – you can see here all my Virgo painting.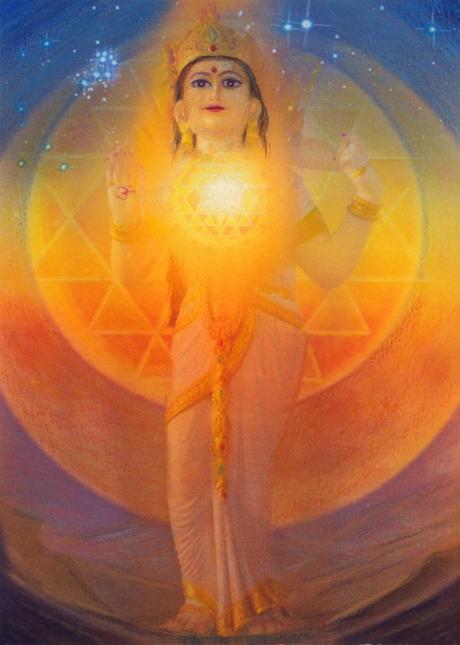 17 May 2017, pencils and photo work