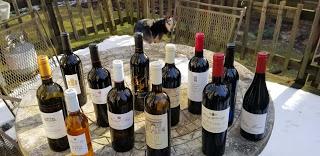 The 2020 Virginia Governor's Cup Competition is currently being judged and the results will be released next month, so the 2019 Case Club Awardees are taking a final victory lap appearing in Frank Morgan's Virginia Wine Chat.  The specific chat actually involves two sessions with the first held January 12th at Horton Vineyards, the reigning Governor's Cup winner for their 2016 Petit Manseng. Shannon Horton, daughter of founder Dennis Horton, represented the winery and was joined by two winemakers - Ben Jordan of Early Mountain Vineyards and Matthieu Finot of King Family Vineyards.  Their presence provided participants the opportunity to present questions on a range of topics particularly on the nature of Virginia Petit Manseng and the methodology behind blending trials.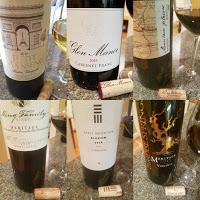 The three presenters described the merits of Petit Manseng with Shannon Horton describing her loose clusters which provide an easier opportunity for the grapes to dry during humid weather. Horton also mentioned the grape's versatility with the inherent acids allowing a multitude of styles along the sweetness scale. And Ben Jordan mentioned how Petit Manseng is not a thirsty grape with respect to late-season rains. Growers do not need to fear grape degradation with Petit Manseng as she won't quaff the late summer or autumn rains and become bloated. According to Jordan, that is useful since other grapes could be harvested before the rains and Petit Mansen left for afterward.
As a response to my question regarding the methodology behind blending trials, the Early Mountain team responded via twitter.   To paraphrase, they develop ideas during fermentation and in January assemble trial blends (w/o actually blending). In the spring, they revisit the original ideas and blend again (different varieties, oak treatments). The goal is to finish the trials by the next harvest. I hope consumers appreciate the time and methodological nature involved when crafting your favorite blended wines.
The second session of the 2019 Virginia Case Club Wines continues on #WineChat this Thursday,  January 16th at 7:30pm ET. Hope to see you online. Cheers
Horton Vineyards Petit Manseng 2016 ($25)
The wine maintains the grape's inherent bright tropical characters and provides a newly discovered depth and weight.
Glen Manor Vineyards 2015 Cabernet Franc ($31.99)
Luscious, full-bodied, velvety, finishing with lifting acids and firm tannins. The wine is also devoid of the inherent green vegetal character and while receiving some oak, not overly so.
King Family Vineyards 2016 Mountain Plain ($69.95)
Beautiful wine, fresh and velvety red fruit, mint and leather, and integrated tannins.
King Family Vineyards 2016 Meritage ($36)
Big chewy wine, dark fruit, some tobacco, solid acids, and firm tannins.
Early Mountain Vineyards 2016 Eluvium ($39.99)
Great mouthfeel, dark bold fruit with some spice, leading to a light and dusty tannins. Thank you acids.
Paradise Springs Winery 2015 Meritage ($49)
Gripping leather surrounded by blackberries and baking spices. Long, lingering finish.