Even if you arrive in Virginia knowing not a soul, don't be surprised if you leave feeling as if you've broken bread and shared drink with good folk who are now friends. That's the way Virginia strikes me. I come here to eat, drink and contemplate its natural beauty, but am most deeply affected by its people.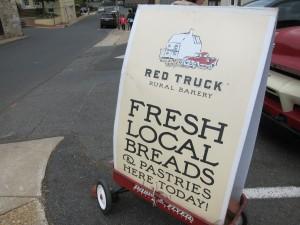 Red Truck Bakery
My first stop was Red Truck Bakery in Warrenton, a Mayberry-style town about an hour west of Washington, D.C. Meeting owner and Chef/baker Brian Noyes is as inspirational as his sweet potato muffins are delicious. After a long and successful career as an art director for major magazines, he followed his true passion and opened this rural bakery that serves specialties of the Southern kitchen. Everything is made from scratch using fresh, seasonal products. Sit down at the large communal table and you're sure to strike up a conversation with a Red Truck regular.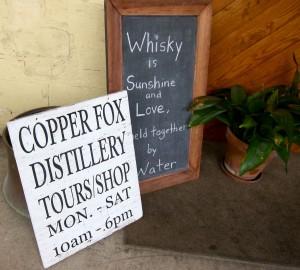 Copper Fox Distillery
Copper Fox Distillery
Harrisonburg is one of the larger towns in the Shenandoah Valley, but it retains an "everybody knows your name" spirit. It is fast garnering a reputation as a hops and barley hot spot. The brothers who own and operate 3 Brother's Brewing Company are still only in their twenties and early thirties. They brew in a re-purposed Coke bottling plant. Their mission is twofold: to brew straightforward craft beer while maintaining a commitment to green environmental practices. Excess grain is donated as feed to local cattle farms and surplus yeast to trout farms. These earth-conscious practices don't sacrifice and ounce of flavor. The unfiltered beers use local products such as hickory syrup and in-town roasted coffee, creating distinct flavors with a strong sense of place.
In remote and rural Nelson County there may only be one traffic light, but there are 10 wineries and 4 breweries, with more on the way. You might think that in an area this small, competition among wine producers and brewers would make for fierce tensions, but that is not the case. A generous aura permeates, with wine producers and brewers actively suggesting that you visit, taste and buy from their competitors. The Hill Top Berry Farm and Winery has no competitor, as they are the only local winery to make fruit wines from peaches, berries, apples and other fruits. They are justifiably proud of their meads, which are wines made from fermented honey. As you sample, you sip a piece of history. Mead is said to be the world's oldest fermented drink, drunk by Ancient Greeks, Viking and Celts. In Nelson County, you too may join the illustrious who've been sipping it for thousands of years.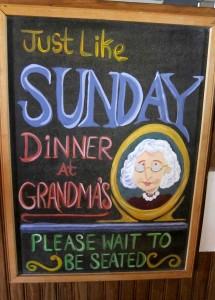 Tanglewood Dinner
Wild Wolf Brewing Company
You know how it somehow seems to taste better when you eat a meal prepared by a dear friend or beloved family member? The sort of cook who infuses each dish he or she touches with love? Tanglewood Ordinary is the sort of honest eatery you might think no longer exists. They serve a family-style dinner that your Granny might have cooked if she lived south of the Mason-Dixon line. It is located on a quiet country road in Maidens, in rural Goochland County, about an hour from Richmond. From Thursday-Sunday they serve unlimited portions of Virginia comfort food classics in a down-home setting. The fried chicken, pot roast and BBQ pork are mainstays, but they don't kid around with the sides. This is the South, where Mac and Cheese is considered a vegetable and here it is a delicious one, with just the right amount of crunch on top to compliment the creamy center. Collard greens are served as they should be in the South, with extra vinegar on the side. The creamed corn is so sweet they could serve it for dessert. The servers are as sweet as the fresh fruit cobblers, pies and layer cakes. As delicious as your meal here tastes, what strikes a deeper note is the genuine hospitality you'll experience. Husband-and-wife team Anne and Jim Hardwick have owned and operated Tanglewood Ordinary since 1986 and have served thousands of guests, but they treat each customer to a true welcome that makes you feel like one of the family. Jim rented a room at the revered Mrs. Wilkes's Boarding House in Savannah as a student back in the 1970's. He learned his kitchen secrets peering over the shoulder of the legendary Grande Dame of Georgia cooking herself, Mrs. Sema Wilkes. Mrs. Wilkes famously rang her bell and led patrons in a simple prayer, before instructing diners at the communal tables to simultaneously dig in to platters of humble favorites. Generosity and praise for others run deep in Jim's veins. If you tell Jim you liked your meal at Tanglewood Ordinary, he may respond to you as he did to me, by sending you down the road to another restaurant that he likes, who don't have a website and attract fewer casual clients.
It might not be incorrect to call Virginia America's first foodie state. Way back when, favorite son Thomas Jefferson was a culinary pioneer, as he scoured France for edible delights to share and grow back home. The current culinary trends in Virginia are still compelling and delicious but they touch something deeper and more elemental in me. My spirit feels lifted by the support the community shows for one and other and the welcome mat they roll out for those passing through. Whatever you are seeking here, don't be surprised to find nourishment of a deeper sort. Your taste buds and your heart will long to return.