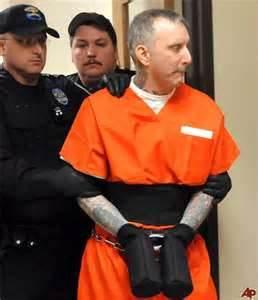 The Washington Post reports
A convicted murderer who killed two fellow inmates while serving a life sentence and vowed to keep on killing unless he was put to death was executed Wednesday night in Virginia.

Robert Gleason Jr., 42, originally of Lowell, Mass., was pronounced dead at 9:08 p.m. at Greensville Correctional Center in Jarratt, the Associated Press reported.

Gleason pleaded guilty to strangling his cellmate, Harvey Watson, with a bedsheet at the Wallens Ridge State Prison in 2009, saying under oath that he timed it to coincide with the anniversary of the killing for which he was sent to prison in the first place, according to court documents.

Gleason later told the court that he "already had a few [other] inmates lined up, just in case I didn't get the death penalty, that I was gonna take out."

In 2010, he strangled another inmate through a wire fence in a recreation pen at the Red Onion State Prison, a "supermax" facility, according to court records. Prosecutors said he mocked the prison staff as they tried to revive Aaron Cooper.

Gleason also pleaded guilty to that slaying and was sentenced to death in both killings. Gleason was given a life sentence for the slaying of Mike Jamerson in Virginia's Amherst County in 2007. Prosecutors said he carried out that killing to cover up his involvement in a drug gang.
I admit it's a dilemma what to do with guys like this. But, even a regular
Otto Delaney
should not receive state-sanctioned per-meditated murder just for the asking.  It's barbaric.
What's your opinion?  Please leave a comment.