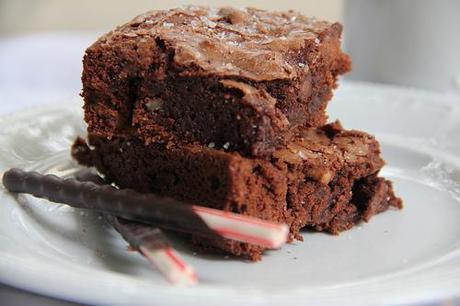 Virgin Chocolat Chunk w. Maple & Benton Bacon
Today marks the last week in the Bobs Red Mill (BRM) and California Olive Ranch (COR) 'Tasty New Year Challenge' with Virtual Potluck. Both BRM and COR have been fantastic to work with on this challenge. Not only are they both terrific companies, they both provide the highest quality products that all readers should be proud to use at home.
I have really enjoyed working with all twelve bloggers on this challenge, and have been inspired and impressed with the 48 fabulous recipes that were created! I hope you have had fun following along! Last week, I made Whole Grande Grains Jambalaya for the main dish challenge, and you can find the recipe for that delicious dish by clicking here.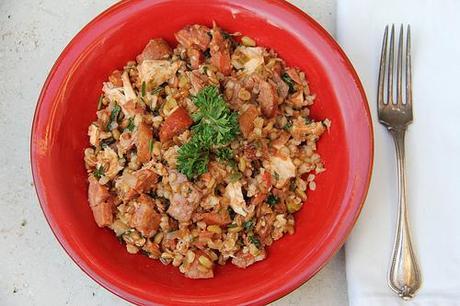 Whole Grande' Grains Jambalaya
Week two I was traveling, and left the Grande Grain at home, so I went with the Whole Grain Quinoa Tabouleh. Our challenge was a side dish. Check out my adventures on making that dish by clicking here.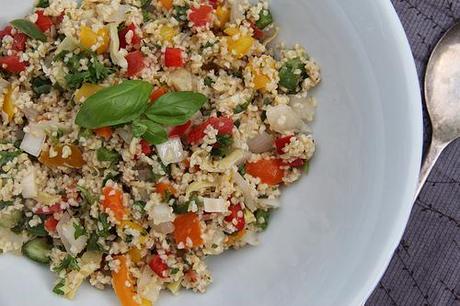 Whole Grain Quinoa Tabouleh
In week one, I made Sun-dried Tomato, Kalamata Olive, and Basil Pesto Focaccia with hard white whole what flour. I also discussed the proper storage techniques for olive oil, how to taste test olive oil, and what to look for when purchasing a quality product. If you missed out, go here for a re-cap, as it is important information!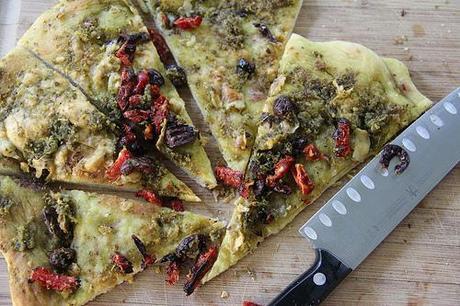 Sun-dried Tomato, Kalamata Olive & Basil Pesto Focaccia
This week, the bloggers were challenged to use Everyday Extra Virgin Olive Oil with Whole Wheat Pasty Flour in a dessert. So far the results have been spectacular, and 30A EATS brought the bacon home by way of brownies! I happen to love Vosages Chocolate, and a bar that they make called a Moe's Bar. It gave me the idea for the brownies, as I was craving one when making these!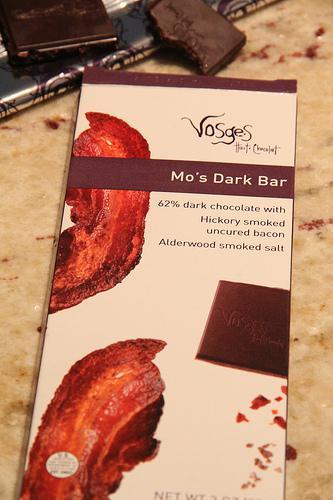 Moe's Bar
With Valentines Day around the corner, it is the perfect time to treat yourself with something decadent, yet using healthy ingredients. Benton Bacon is hand cured in Madisonville, Tennessee by a dear friend I have known for thirteen years named Allen Benton. A genuine man with a humble spirit, I choose to (mail-order) his bacon and hams as much as possible. The brownies take very little, but it is the hickory smoke taste that takes these brownies to another level.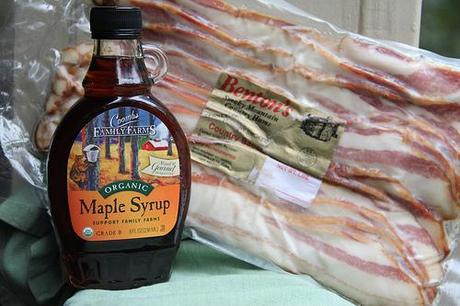 Benton & Coombs
The salt is a Himalayan Pink Sea-Salt, and the Maple Syrup used was nominal, and made from the wonderful organic farmers at Coombs Farms in Vermont. You can also use Steen's Yellow Label Cane Syrup, or Muddy Pond from Middle Tennessee for a tast of sorghum.
Virtual Potluck has taken this challenge and proven, that recipes can be adapted using better quality and more wholesome ingredients, while still maintaining delicious taste.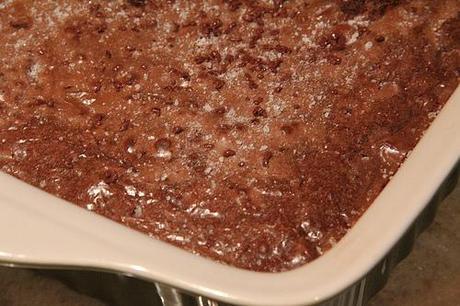 Yummy Brownies!
Olive Oil Brownies
Recipe:
4 ounces bittersweet chocolate (at least 70% cacao) chopped
1/3 cup California Olive Ranch Everyday Extra Virgin Olive Oil
2 large eggs, at room temperature
3/4 cup granulated sugar
2 teaspoons Coomb's Farm Maple Syrup
1/4 teaspoon Ground Pink Himalayan Sea Salt
1/2 cup  Bob's Red Mill Whole Wheat Pastry Flour
1/3 cup Benton Bacon, cooked crisp and chopped finely
Preparation:
Preheat the oven to 350F Line an 8-inch (20cm) square baking pan with foil and spray foil with cooking spray.
Melt the chocolate in the microwave or in a bowl set over a pan of barely simmering water. Whisk in the COR olive oil and set aside to cool slightly.
Beat the eggs and sugar in a mixing bowl using high speed of an electric mixer for 5 minutes. Beat in the syrup and salt, then fold in the cooled chocolate mixture. Fold in the BRM flour, then gently stir in the bacon. Pour into the prepared pan.
Bake for 20-25 minutes. Mine became aromatic at 20 minutes and at 25 minutes, they had a shiny, dry, slightly crackly top. Let cool completely. Cut into squares.
Want to Get in On Our Last Super Giveaway?
 Then you must visit either Bob's Red Mill or California Olive Ranch on Facebook to retrieve this weeks Virtual Potluck code word! Each week will be different as we giveaway new and good for you products!
Next, come back here to here and use that code word in a sentence! That's it, and you are entered!
If you want to visit the twelve other bloggers in Virtual Potluck for twelve more chances to win, go to our host blog by clicking  here now!
For even More entries, Follow 30A EATS, Bobs Red Mill, California Olive Ranch and Virtual Potluck on Twitter! Tweet a link to the contest by using the hashtag #virtualpotluck! Make sure you come back here to here and leave a comment to let me know you tweeted!
A gift for you! California Olive Ranch is offering you a 10% discount by entering 'BLOGFRIENDS' upon check-out online!

This contest will end on Sunday, January 29 at midnight, and is open to US residents only. The winner will selected by random.org. Good Luck!