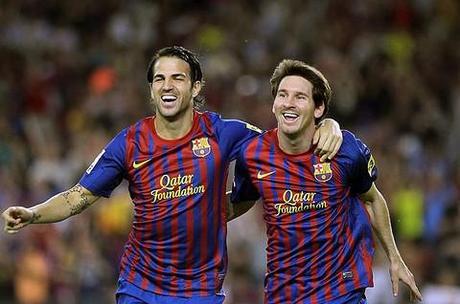 Barcelona attacking players Cesc Fabregas (l) and Lionel Messi (r). Photo credit: Globovision
Lionel Messi is widely regarded as the greatest football player on Earth and, by some, to be the greatest player to ever play the beautiful game. Unlike some of his flashier peers, the mild-mannered Argentinian player lets his feet do the talking. And, boy, has he been on fire in recent weeks.
His huge importance to FC Barcelona has been underlined of late as he has almost single-handedly kept the Catalan club in with a chance of retaining the league title. On February 19, Messi scored four goals in a 5-1 rout of rivals Valencia. And yesterday, Messi's quickly taken, and perfectly executed, lobbed free-kick proved the winner in Barcelona's 2-1 triumph over a pumped-up and combative Atletico Madrid side. Despite Messi's repeated heroics, second-placed Barcelona trail Real Madrid by 10 points in the Primera Liga due to their indifferent away form.
Messi has now scored a whopping 223 goals in all competitions for Barcelona. You can watch them all (other than last night's sublime free-kick) in one 13-minute video which The Week described as "an orgy of footballing brilliance." Given the worldwide love for Barcelona's diminutive number 10, it's no wonder it's gone viral.