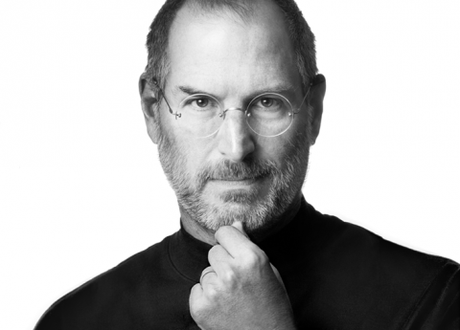 Steve Jobs. Photo credit: Apple
Who's the greatest out of technology visionaries Steve Jobs and Bill Gates? That's the question being asked by the Epic Rap Battles of History team via their latest rap battle match-up video. In the video, Jobs' imaginary rapping alter-ego is played by Nice Peter and EpicLLOYD raps as Gates.
"I need to bring up some basic shit / Why'd you name your company after your d*ck?" asks Jobs, to which Gates bites back, "Hippie, you got given up at birth / I give away your net worth to AIDS research."
Epic Rap Battles of History was born of an improv show first performed in Los Angeles in the summer of 2010, where Nice Peter and EpicLLOYD free-styled verbal altercations between two characters suggested by the audience. The match-up between Darth Vader and Adolf Hitler helped turn Nice Peter and EpicLLOYD into YouTube celebrities.