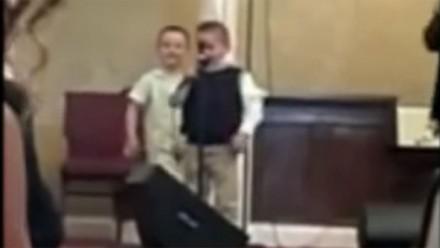 Homophobic singing by a young boy at an Indiana church has shocked and enraged many
A shocking YouTube video of a little boy singing "ain't no homos gonna make it to heaven" at a US church gathering has angered gay rights campaigners and gone viral on the internet. In the video, filmed at the Apostolic Truth Tabernacle in Greensburg, Indiana, the congregation clap and whoop in enthusiastic response to the boy's homophobic singing.
"The Bible's right, somebody's wrong/Romans one, twenty six and twenty seven/Ain't no homos gonna make it to Heaven," sings the boy. Romans 1:26-27 refers to a section in the Bible that claims: "Men committed shameful acts with other men, and received in themselves the due penalty for their error."
More than 1,000 people have commented on the video, many condemning it as "disgusting" and "sick." There's been much outrage at the idea of a child being spoon-fed the homophobic words, pointed out The Week. According to US website TMZ, members of the church have received harassing calls and the pastor has reportedly left for an impromptu vacation with his wife after receiving a number of death threats.