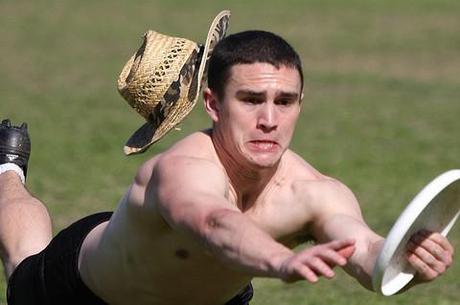 A man lunges to catch a frisbee. Photo credit: San Diego Shooter http://flic.kr/p/7D2JbD
Ultimate fridge is one of those sadly unheralded niche sports that hardly ever receives any serious attention in the mainstream media. It takes something pretty spectacular to happen in ultimate frisbee for it to attract the attention of even the most sports obsessed person.
Thankfully, the always excellent World of Sport blog has flagged up a simply sensational scoring catch performed by Connecticut Constitution player Brent Anderson. You really don't have to be an ultimate frisbee aficionado to enjoy this one. In fact, anyone who has ever played frisbee on the beach will be able to appreciate the adrenalin rush Anderson surely felt when he reeled this one in. Once you've checked it out you'll understand why it's been viewed over 133,000 times on YouTube.
Seen a better grab? Leave a comment and let us know.