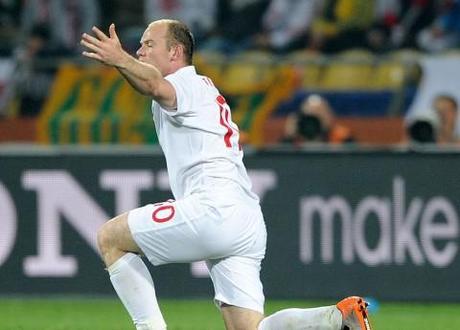 England's Wayne Rooney. Photo by Kevork Djansezian/Getty Images for Sony
The background
The build-up to the Uefa Euro 2012 Championships has been surprisingly low key in England. Few pundits rate England's chances of success in Poland and Ukraine and largely negative stories – from Rio Ferdinand's controversial omission to Gareth Barry's unfortunate eleventh-hour injury – have dominated the doomy headlines in recent weeks.
Usually, in the weeks before any major tournament, St. George's flags are flying from almost every white van in England but this time around, the expectations are pretty low and the pre-tournament hype is, as a result, relatively muted. However, while hardly anyone reckons England will win the tournament, there are some who do have belief in new manager Roy Hodgson and are backing him to steer England into the knock-out stages (despite the fact that Wayne Rooney is suspended for the first two group games) where, as we all know from Greece's 1994 triumph, pretty much anything can happen.
What if?
The positive camp's mood is nicely summarised by Absolute Radio's stirring Euro 2012: What if? video, which has raced to 17,000 views on YouTube since it was uploaded on 27 May. Once you've given it a watch you'll be likely to be at least a little bit more upbeat about England's chances. Heck, you might even be so enthused you might find yourself day-dreaming that England can upset favourites Holland, Germany and Spain and lift the cup.