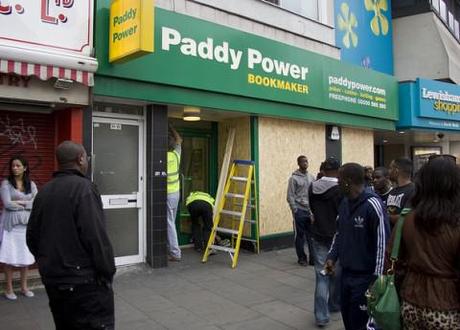 A Paddy Power betting shop, Lewisham, London. Photo credit: Stuart Bannocks
Bookmakers Paddy Power is no stranger to courting controversy. The firm's Ladies Day advert, which featured transgendered actresses and asked viewers to "spot the stallions from the mares," was banned from UK television.
Judging by their follow-up ad, getting banned is actually all part of the Paddy Power plan. The new spot – entitled Chav Tranquilliser – features an assassin-like character firing tranquilliser darts at a selection of racegoers he disapproves of. The voiceover informs that the targets are "a bit of a tool," "vajazzlers" and a "filthbag" before promising that, thanks to their marksman, horse-racing fans can look forward to a "chav-free Cheltenham" festival. If it doesn't actually get banned, it's sure likely to draw some heavy criticism.
Huffington Post UK reported that the company revealed it got its idea for the latest ad from a Facebook fan who "prayed that the Chavs wouldn't ruin the Cheltenham Festival like they had Royal Ascot." The Paddy Power blog replied: "We hear you …and we hope this will resolve your problem. Keep an eye out for our expert marksman."