Increase Your Social Shares Today with Viral Content Buzz
Have you tried to increase your social shares lately? There are so many ways out there t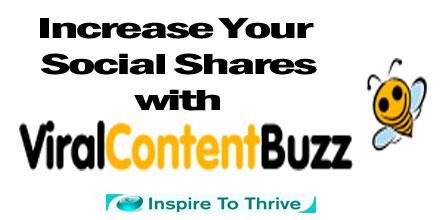 o accomplish this. I've had people ask me this all the time. Of course many of the ways cost money and others cost a lot of time. Who has a lot of money or time today? Viral Content Buzz does make it easier.
I wanted to test the Pro version of Viral Content Buzz to see how it would impact my reach. The Pro version is $20 per month. I've been using it for over a month. I had been using the free version for years on and off. It did generate a little traffic throughout the years. One piece of advice if you use either version - do check out the links before you share! I personally don't like those that use just YouTube videos on it to share but I've come across a lot of good content to offset that.
Pro Viral Content Buzz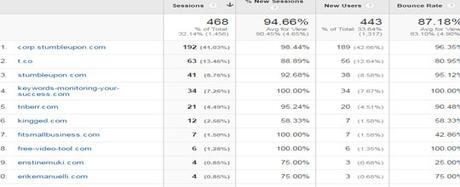 To my surprise it did really increase my reach on various networks like Twitter, Facebook and Pinterest. I found more people to connect with and found more readers through it. A lot of traffic came from Stumble Upon - which as some old readers here know is not my favorite source of traffic as it tends to have a high bounce rate. (You can see that in my Google analytics results) The network Viral Content Buzz uses Google+ too which I don't use as often anymore. It's hard to keep up on so many social networks and more importantly engage on them.
One thing I did notice was with Facebook you have to have your personal account set to public shares. I tend to keep mine to just friends so stalkers and/or spammers cannot see everything on my Facebook. Your public shares can be seen by anyone searching your name on Google. Something to keep in mind. I do use it for the Inspire to Thrive Facebook page though and you can too for your own Facebook page. I've noticed more engagement with the more shares lately over on Facebook. Anyone else noticing the more you post on Facebook the more engagement and shares you get? I used to only post once or twice a day on my Facebook page but with this Viral Content Buzzz I've shared a few more per day and have seen increases in engagement and shares. Another added benefit of using Viral Content Buzz!
Why Reach Out More On The Social Networks?
Many bloggers lately have left the blogging world. I was sad to see recently that Adrienne Smith has left us. I wish her in the best in her new endeavors. It happens in patches - several bloggers quit. Then you lose readers and social engagers. They take on new jobs or have life changing events that may take them offline. That can leave you with less readers, comments and engagements on social media. It is always good to get new readers and followers on the social networks so you are prepared at all times. I've met some new bloggers via Viral Content Buzz. Another benefit to using this platform!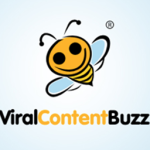 How Does Viral Content Buzz Compare To Other Sharing Sites?
I do use a few others that are similar to Viral Content Buzz. I use the following sites:
Triberr - I must say Triberr is the best but it takes time to get there. You have spend time using it, knowing how to use it right and use it often. Once you do it can be a great driver of traffic, readers and engagers.
Just Retweet - I would say this is very similar to Viral Content Buzz but you can only share with a few networks like Twitter, Facebook and Google+ - No Pinterest. I also check links before sharing any from this site.
The Buffer - Buffer is another favorite tool of mine. It's a great way to share from social media. I have been using the paid version of late. The Chrome extension makes it easier. The mobile version is great too. You can add your favorite RSS feeds - set it and go. With the paid you also get some analytics to see who is sharing your stuff too.
I'd love to know about others you may be using today - please drop me a comment on them below.
How to Use Viral Content Buzz
It is fairly easy to use but this video will guide you from start to finish. You must content your social network accounts and check off your interests to get started. If you use the Buffer it works great with this system!

What Others Are Saying About Viral Content Buzz:
@Lisapatb reaching a different audience

- Bill Gassett (@massrealty) May 11, 2016
@Lisapatb#viralcontentbuzz keeps quality higher than 90% of the social sharing co-op platforms/communities. Also a good source of traffic.

- David Leonhardt (@amabaie) May 13, 2016
Tweet me and I'll add your comments here on Viral Content Buzz.
I'd love to know in the comments what you are using to increase your shares and reach on the social networks.