The shoe of this weekend is a pink silk mule with ribbon trim from Wales in the 1730s.
So I tried taking advantage of the monstrous semi-annual sale going on at La Senza but sadly my size was basically already gone, except for one green and pink bra off which I cut off the plaid bow because it didn't look right.
Then I bought two camisoles at Garage (white and navy blue) with the back completely made of lace.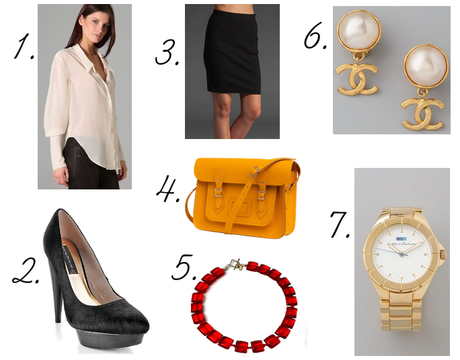 1. Theyskens' Theory Bama Blouse (on sale!) 2. STEVEN by Steve Madden Calfhair Pump (save $90) 3. T by Alexander Wang Pencil Skirt 4. Upwardly Mobile Satchel in "Oxford University" 5. Siren Red Acrylic Necklace 6. Vintage Chanel Pearl & CC Earrings 7. La Mer Collections Gold Ombre Watch (edited with polyvore)

I was aiming for a timeless, elegant look here, but the bright satchel gives it a modern twist. It may not look like it belongs but I know it could work, it just depends on your style. With the red necklace I wanted to create a pop of colour other than the bag that could contrast nicely with the off white blouse (which would be neatly tucked into the pencil skirt). Chanel earrings and pearls add a gentle sophistication to the outfit. A gold watch and black pumps are simple, yet they help enhance the idea.
XOXO,
Nina