For sometime now I have been after a twisted tine hand fork.  I know, not the usual desires of a thirty something year old woman…….. vintage dresses, vintage handbags…….no not for me it's vintage garden tools!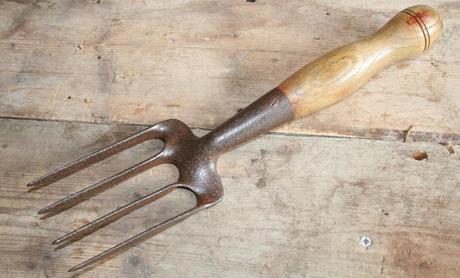 That old adage, "they don't make them like they used to" has never been more true.  Not only do they seem to be built to last but you also get that wonderful luster and smoothness of the wooden handles that can only be achieved after years of use.
I discovered a great stand at the Malvern Flower Show think vintage boutique but for all things gardening.  I held lots of different twisted tine hand forks but this one just sat in my palm perfectly and the smooth wooden handle feels great. Lucky for me The Vintage Garden Store is based close to where I live and although they don't have a shop they are more than happy to meet at their storage unit for me to have rummage.
I will enjoy using this hand fork, it will be reserved for my own garden and not used in others. The reason for that is I have a tendancy to put hand tools down and forget where I put them and when I have been working in three different gardens in one day is not good!  This one needs to be looked after and I look forward to added more vintage tools to the collection!