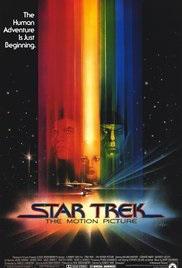 Director: Robert Wise
Writer: Harold Livingston, Alan Dean Foster (Screenplay) Gene Roddenberry (Characters)
Starring: William Shatner, Leonard Nimoy, DeForest Kelley, James Doohan, George Takei, Majel Barrett, Walter Koenig
Plot: When an alien spacecraft of enormous power is spotted approaching Earth, Admiral Kirk resumes command of the Starship Enterprise in order to intercept, examine and hopefully stop the intruder.
There may be spoilers the rest of the review
Verdict: Fun For Star Trek Fans
Story: Star Trek: The Motion Picture starts with a new unknown enemy heading toward Earth, a ship that consumes other ships, the only starship that can defend Earth is the Enterprise and the most experienced captain is admiral Kirk (Shatner) who returns to the ship he once captained. Kirk brings back his old friend Dr McCoy 'Bones' (Kelley) to be his head doctor as he must deal with a crew of old friends and fellow crew members that want their chance in the captain's chair.
When Spock (Nimoy) joins the mission after being drawn towards the thought patterns coming from the unknown enemy, this reunites the team once again. This time what thee Enterprise discovers is something new, with technology they didn't believe was capable for a solo ship but what are they searching for in intergalactic journey.
Thoughts on Star Trek: The Motion Picture
Characters – Admiral Kirk has been away from the Enterprise for a couple of years but when a new threat is heading to Earth he uses his power and experience to take the captaincy back. He now must deal with a new ship, new crew and old faces that are all offering him advice when it comes to dealing with this enemy. Spock gives up his Vulcan test to head towards the threat believe he has a connection to the power, joining his old crew he becomes an important part of the mission. Dr McCoy is forced into return for this mission by Kirk and he is as bitter as ever about being on the ship again.
Performance – The fans of the original show will see good performances throughout the film from that cast, the additional members of the cast are also good throughout the film too.

Story – The story here shows how the calm mindset the Enterprise crew must have when dealing with an unknown enemy. We get the calm look at how the crew use their abilities to communicate with an unknown enemy but also deal with the pros and cons from each move, this might not be all action but is more about how we could communicate with a new threat.
Adventure/Mystery/Sci-Fi – The adventure takes out characters into a mystery to communicating with an unknown enemy in space, this is mixed well because are not thrown into pointless action rather than a tactical discussion. The sci-fi side of everything is dealing with new threats in space in a smart manner.
Settings – The film is set in space which is what you all know, but the visual look of the cloud they are investigating is beautiful, mesmerising through each moment we enter it.
Special Effects – The effects have dated in places but the reality it they do all fit Star Trek and what the fans have come to expect.


Scene of the Movie – First Warp Speed, while dated it does seem to make the film feel edge of the seat.
That Moment That Annoyed Me – When I walk into a film like this I would be expecting an action side to everything, while I did enjoy, it can't help but feel like it is missing.
Final Thoughts – This is a smart sci-fi film that shows us sci-fi films in space don't need to be big over the top action spectacles but can be thinking about how to communicate.
Overall: Star Trek fans will say this is a good addition and even now it feels like an enjoyable and smart sci-fi film.
Rating

Advertisements