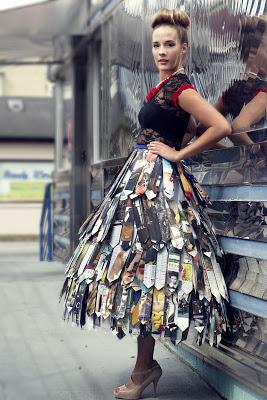 Hola Fashionista's! This week I am mixing things up a bit. Out with the "new" and IN with the "old" sort of speak. For those of you who walk on by those classic vintage shops without peeping in, are missing out on a treasure chest of fabulous finds. With a little effort and a little digging, your money can take you a long way. My favorite thing to do on a saturday morning is shop around local consignments shops. If you are located here in the SAV, check out Cherry Picked Consignments on Broughton St. and I promise you, it will be worth your while. 
   My featured Fashionista this week is wearing one of my very own creations. Although, I am not an aspiring Fashion Designer, I sure did have a fabulous time constructing this piece. I was given an assignment in my Fashion Design class to create a garment using recycled materials. Inspired by a dress I saw made of paper, I decided to put my twist on the idea and use magazine pages as my fabric of choice. I folded each magazine clipping into a "tie" looking shape and then hand sewed each piece onto a hoop skirt (which was purchased at Goodwill for $5, don't underestimate Goodwill!) The top is made from black lace fabric and then I embellished the collar and sleeves with red rosettes. I also sewed on a vibrant blue rope belt around the waist to break up the skirt and top. My look is classic chic with a touch of the 1950's housewife. The 1950's was a post war time where women finally had the right to vote and were now able to hold a career of their own. It was a time where women could finally be comfortable in their own skin. I wanted this new found confidence in women to be portrayed throughout my garment.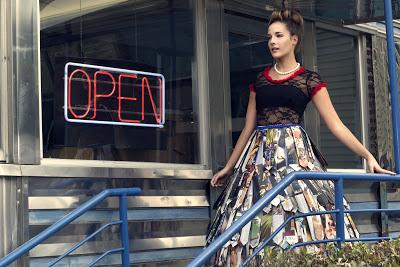 Now, I know you're probably thinking, does she want me to wear a paper skirt? And the answer is "No!" but if you did I would think it was fabulous! My point is, don't pass up on vintage clothing. Some of the best things in my wardrobe have come from vintage stores. If you're not into the "used" clothing deal then you can shop at boutiques like ModCloth and still get that classic vintage vibe that you are vying for. Try pairing this fabulous peplum dress with these to die for black heels. Top this beautiful ensemble off with a string of pearls and a cozy white fur coat and your look will have achieved class with a bit of sass.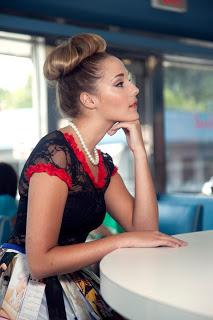 So get into those closets of yours Fashionista's and revive some of those potentially dying pieces and bring them back to life! It's important to remember that your look isn't about how much you spend on a piece but how well it's mixing with your entire outfit. 
Style Tip: Take an old top and embellish it with flowers or anything that you want to give it a fresh and up-to-date look. 
Yours Truly,
Alicia G. 
Photographer: Ayden Grace 
Model: Sawyer Greenberg
MUA: Hana Hyman
Designer/Hair: Alicia Gonzalez