Before arriving to Nha Trang, I began researching things to do. There are many popular things to do but the most popular is most likely going to the beach. Obviously, I wanted to get some beach time in but I also wanted to know if there was any other major sites or places to visit.
Then, I read about Vinpearl Land. Basically, Vinpearl land Nha Trang is a large company that operates several resorts and amusement parks all over Vietnam. One of their operating locations is on an island directly adjacent from Nha Trang. I have not been to an amusement park for many years but it sounded like a fun way to spend the day.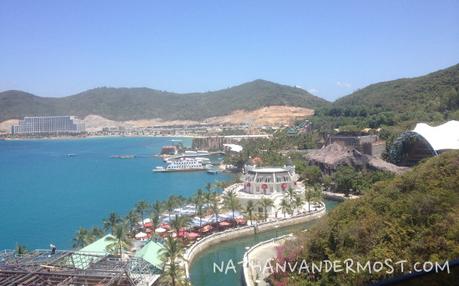 An aerial view of Vinpearl Land
How To Get To Vinpearl Land, Nha Trang?
My girlfriend and I were staying in a hotel, a few blocks from the ocean. After talking to the front desk they suggested that we take a local bus, #4 which terminates at the entrance of Vinpearl. We were able to find the bus stop which was several blocks from our hotel and waited roughly 15minutes for a bus to arrive. As we waited, we got asked by local taxi drivers if we wanted to ride in their taxi as it would be a faster mode of transportation.
Along with being a faster mode of transportation, it would also cost $2USD compared to the bus which cost 7000 Dong or 0.32. Eventually, the bus arrived and it was a short ride to the entrance of Vinpearl land. Before getting to the end of the route, the bus stops so that all the passengers can get an entrance ticket to Vinpearl Land.
When we stopped, I was skeptical that it was a scam and opted to wait until we got the the real ticket counter. It ended up being legitimate and is the same price as the tickets being sold at the entrance ticket counter.

The cost to enter Vinpearl Land, Nha Trang as of April, 2015
What Is The Cost Of Vinpearl Land?
The cost to enter the amusement is quite reasonable compared to what an amusement park in the U.S. would cost. The total cost for an adult is $25USD. This includes:
– Riding the longest sea cable car in the world: 3.320m
– Entrance to a Water Park spreading over 50,000m2
-Vinpearl Aquarium with an area of 3,400m2
– Water musical and outdoor performance stage
– Amusement park with a variety of outdoor rides
Not a bad deal.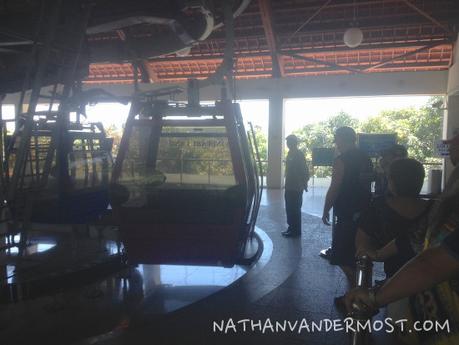 Waiting to board the cable car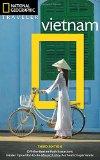 National Geographic Traveler: Vietnam, 3rd Edition
List Price
: $22.95
Current Price
: $11.76
Price Disclaimer
Cable Car Ride
After buying your tickets to enter the park, you walk into a line to get onto the longest sea cable car in the world! It was definitely a highlight of the park and made for some spectacular views over the ocean.
Each cable car can comfortable seat 4 people but I do not know what the maximum capacity of each cable car is. When you step onto the cable car, it is moving very slowly and then shortly thereafter, the doors close, and it beings to accelerate. You gain elevation very quickly and assuming it is a clear day, the views are spectacular.
The cable car features some small windows to allow for ventilation and it is easy to see in all directions. The trip takes roughly 10 minutes and goes by very quickly so be sure to have your camera ready. After you arrive to the other side, you step out and enter the amusement park area.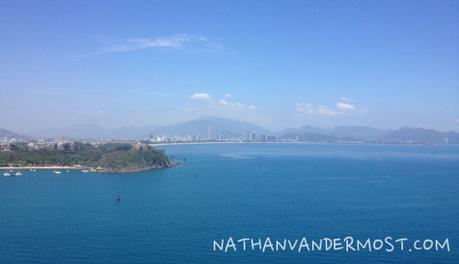 The aerial view of Nha Trang from the cable car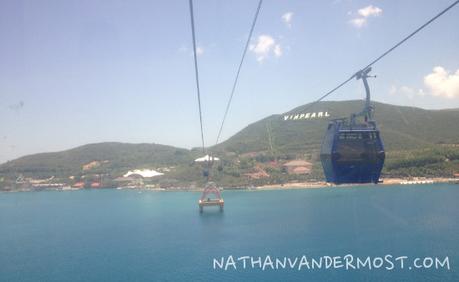 The aerial view of Vinpearl Land from the cable car
Vinpearl Amusement Park
There are a variety of amusement park rides that are available at no extra cost. I rode on a few rides and the most extreme ride for me was called the, "extreme carousel." After getting seated, you are strapped in. The ride starts to spin and then eventually goes upside-down while spinning. I would not recommend eating any food prior to this ride.
Some of the other rides that the park features include a, swing carousel, merry-go-round, pirate ship, small roller coaster, and bumper cars. The ride that I enjoyed the most was a small cart that rode downhill on a track but you have control of the brakes!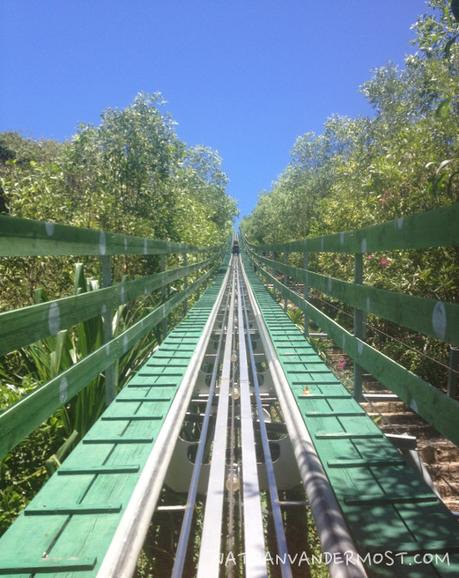 The view before descending on the roller coaster tracks!
You have to keep a minimum distance of at least 25m from the cart in front of you but it is really fun as you can go very fast. It is disappointing though if the person in front of you does not like high speeds and therefore goes slow. Then, in order to maintain the 25m space limit, you have to go slow as well. Most of the other rides are more mellow, and kid friendly.
Water Park
We saved the water park for the later half of the day and had a blast. The water park area is a 10-15min walk from the amusement park area. Once you reach it, there is a locker area that you can put personal possessions away for 10,000 Dong or $0.46USD. They also have towels for rent or purchase. The bathrooms are very large and there are many changing rooms and showers.
I would advise leaving everything in your locker except for what you will be riding down the slides with. The only exception to this suggestion, is if you have someone that can watch over your belongings while you are riding the water park slides. The water slides operate on a specific time-schedule so not all of the slides are open at once.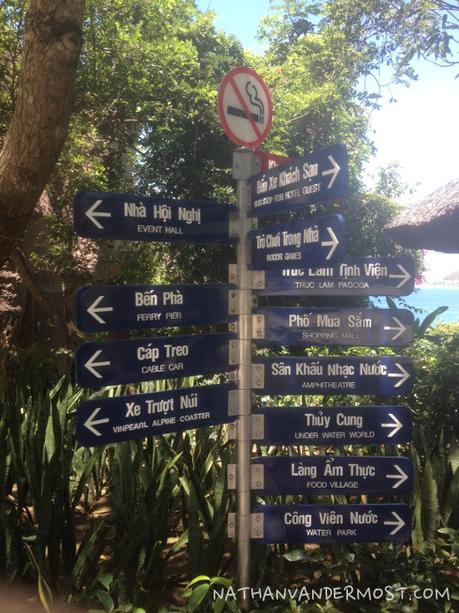 Helpful signs based around the park to help you when you are lost
This allows you to try different water slides during specific time durations, then as the time goes by, you can try other water slides. The water park is really fun but I would use caution as some of the slides have a short drop and I tweaked my neck while riding them. Ouch!
The water park also features a wave pool that I missed out on because I got there too late. I would look at the time schedules to ensure that you do not miss it, as it looked really fun!
Aquarium
If you enjoy looking at sea-creatures and other animals there is an interesting aquarium at Vinpearl land that is worth a visit. The aquarium features a conveyor belt that moves under a body of water that has a variety of aquatic specimens.
In addition, there are other insects and small animals that are available for you viewing pleasure before entering the aquarium conveyor belt. I would save the aquarium for the end of the day since the water park and amusement park will be closed. The aquarium is located between the amusement park and water park. It will be easily identifiable on any Vinpearl land map.
You can easily spend 30minutes to an hour at the aquarium area and it is a good way to end the day.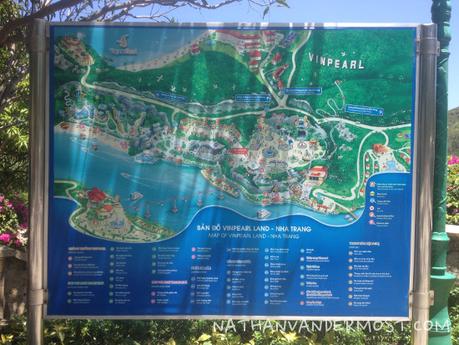 Map of Vinpearl Land, Nha Trang
Vinpearl Land Food
The park features a variety of food, but be prepared to pay a premium. For lunch, I ate a bowl of Pho, a traditional noodle soup dish with chicken. The food was ok but it was expensive compared to what I would normally pay for the same thing at another restaurant on the main land.
Since you end up spending a majority of your day at the park, it is inevitable that you will get hunger and thirsty. Therefore, you will not have another option to get food other than going hungry. You are not allowed to bring food when you enter the park. The main food court areas are between the amusement and water park.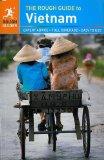 The Rough Guide to Vietnam
List Price
: $24.99
Current Price
: $14.63
Price Disclaimer
Overall Experience
Overall, Vinpearl Land Nha Trang is a great way to spend the day for families and adults alike. The price is very reasonable compared to the services and activities that are included. Even as an, "adult" I had a really fun time and I would recommend it to fellow travelers.
Your experience will be enhanced by arriving early so that you can take advantage of a full-day. Additionally, be sure to bring a swim suit and towel if you intend on going to the water park. I would also advise bringing sunscreen as it can get very hot and sunny during the day. If there is anything that can ruin a fun day, it is getting sun burned. Have fun!