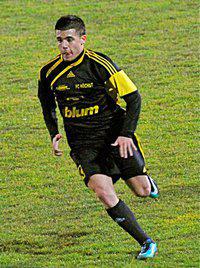 Life is all about chances and that has virtually been part of the life of Vincenzo Bernardo's career as a football player.
His decisions were also key in making him the player and person he is today. His desire to go the road least travelled was an opportunity to find out what he was made of.
"I just see myself as a completely different player now. I think that playing with men, and then training in the Primavera was a big difference, " said the native of Madison, New Jersey.
So for him to have the opportunity to play with the Harrisburg City Islanders of the USL is just exactly that- an opportunity. For Vincenzo, it's an opportunity to get closer to his dream. In the process, his dream was a long one in the making.
For him the possibility to return to the US to play was always a great one. It was a chance where he could relish being successful and near his family at the same time. On Wednesday Bernardo will play his first-ever professional match on US soil as Harrisburg City will face the Philadelphia Union in an exhibition match on Wednesday. "I've never played professionally in America. Quite crazy if you think about it. It's also so Ironic that my debut is against Philadelphia."
From being the stud in high school to becoming a prospect in the Napoli primavera to ending in stints with Nola as well as Austrian third division side Höchst, the football and life skills education he received were invaluable. Vicenzo also realized that the biggest opportunities arrive when they are least expected.
"While I was in Nola, I came home for (Christmas) vacation for a month and an half. I saw there was a combine for the Philadelphia Union and Harrisburg," said Bernardo. "I went to combine and did well. Coach of Islanders said he was interested. Take chance with Austria at Hoschst."
Since then he returned to the US, and was on trial with Harrisburg City before eventually being signed on by the club a couple of weeks ago. Now he is ready to show all his skills to a market that has heard about him, but will be looking to see what he is about.
For Vincenzo he arrives to a completely different situation here in the United States. To him, the game has undergone an evolution during the years he was abroad.
"It's a huge a huge difference. The stars like Beckham, Henry, Robbie Keane, etc. The level of play has gone so high and the great thing is that more players want to come over, " said Vincenzo.
What has been most favorable for him is the situation he is currently in and the help he has received in order to quickly adapt to the club. "These are a great bunch of guys. We live in apartments close to each other and they have helped me out a great deal."
On top of that, he has also had the pleasure of reuniting with two former teammates from back in his days at St. Benedict's High School- José Angulo, who had a brief stint with the New England Revolution and former Long Island Rough Riders man Nelson Becerra.
"Really looking to focus on the season. Winning the championship would be huge. Doors will open," says Vincenzo. This is what truly motivates him to show his potential to a huge audience that has heard about him, but have seen little on this end.
All these reasons, in addition to the unconditional support that he received from his family throughout his career, are why he decided to return stronger than ever and more determined to make his dreams come true.