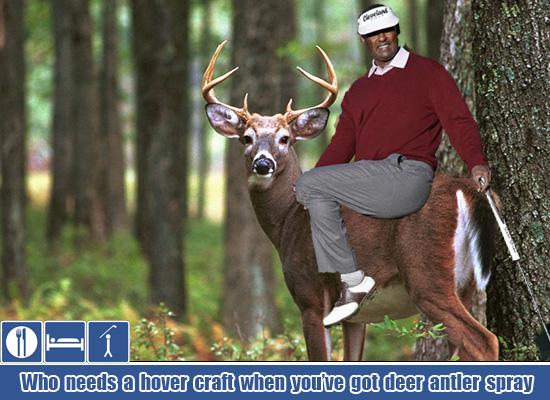 I typically try not to comment on a lot of the drama that takes place off the golf course, which includes the recent ordeal surrounding Vijay Singh and his use of Deer Antler Spray.  I was happy to hear that PGA Tour and the powers that be decided to rule in favor of Vijay, stating that Deer Antler Spray would not be considered an illegal product.
I thought great, now Vijay can put this behind him, move forward and focus on his game.  Unfortunately, that doesn't seem to be the case, as was announced earlier this morning, Vijay has launched a lawsuit against the PGA Tour for damaging his reputation.
Here's some more details on this story from Golf Channel's Will Gray:

The curious case of Vijay Singh has taken another turn, and now appears headed for a courtroom.
According to a report from USA Today, the three-time major champion filed a lawsuit Wednesday against the PGA Tour over doping allegations he faced after admitting to using deer-antler spray earlier this year.
"The PGA Tour has now finally admitted that the use of deer antler spray is not prohibited," the suit reportedly reads. "Rather than performing its duties to golfers first, and then determining whether there had been any violation of the Anti-Doping Program, the PGA Tour rushed to judgment and accused one of the world's hardest working and most dedicated golfers of violating the rules of the game."
After admitting to use of the spray in a January Sports Illustrated article, Singh was initially sanctioned by the PGA Tour, but last week in a news conference at the Wells Fargo Championship, commissioner Tim Finchem announced the Fijian would not be suspended.
"I am proud of my achievements, my work ethic, and the way I live my life," Singh reportedly said in a statement. "The PGA Tour not only treated me unfairly, but displayed a lack of professionalism that should concern every professional golfer and fan of the game."