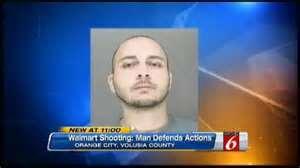 Local news with video
It started as a shoplifting incident inside the store on Veterans Memorial Parkway near Saxon Boulevard. A thief loaded up a cart of merchandise, and loss-prevention employees tried to stop him as he left the store, officials said.
Authorities said the shoplifter, identified as Eddie McKee, 42, knocked Ann Buongiorno to the ground as he ran out of the store.
Ann Buongiorno to the ground as he ran out of the store.
"I'm all still shaken up from all this," said Buongiorno. "I thought I was going to die. I was knocked down very hard, and I thought I got shot, and I was screaming at the top of my lungs."
An off-duty law enforcement officer saw McKee running for his car and ordered him to stop, but McKee fled.
Investigators said another man in the parking lot, who was identified as Jose Martinez, pulled out a gun and fired at least four shots at McKee. The back window of the car was shot out, and bullet holes were found in the trunk.
Is it taken for granted that Jose had a concealed carry permit? Florida is one of the easiest states to get one and no one seems to have batted an eye at the fact that he had a gun on his person.
I say yes, he probably has a permit and like many other permit holders he was absolutely incapable of acting responsibly in a heated moment. Plus, the fact that it's not even mentioned by the authorities or the media means this is just another case in which it gets overlooked and doesn't become part of the statistics.
Lying gun-rights fanatics can keep telling us how few concealed carry guys break the law.
What's your opinion?  Please leave a comment.