BM# 44: A-Z Cooking Series -- Around the World in 30 days
Country: V for Vietnam
Dish: Crispy Rice & Mung bean Pancakes (Bánh Xèo)
We are visiting
Vietnam
today. Vietnam is located in Southeast Asia and is bordered by
China
to the north, Laos to the northwest and Cambodia to southwest.
Vietnamese cuisine
 features a combination of 5 fundamental taste elements/ senses: spicy, sour, bitter, salty and sweet which sounds much like Indian tastes as well. Traditional Vietnamese cooking uses lot of fresh ingredients, minimum use of oil and relies on herbs and vegetables. Vietnamese food is considered as one of the healthiest cuisines worldwide.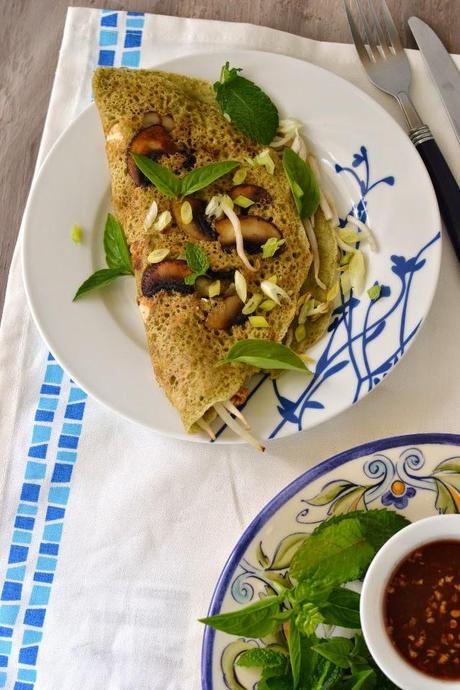 Last month's Vegetarian times magazine had a whole spread of Vietnamese dishes and I knew right away that it is going to be Vietnam for V. These rice and mung bean pancakes sounded very similar to Andhra Pesarattu and the stuffing with mushrooms and bean sprouts sounded really interesting to me.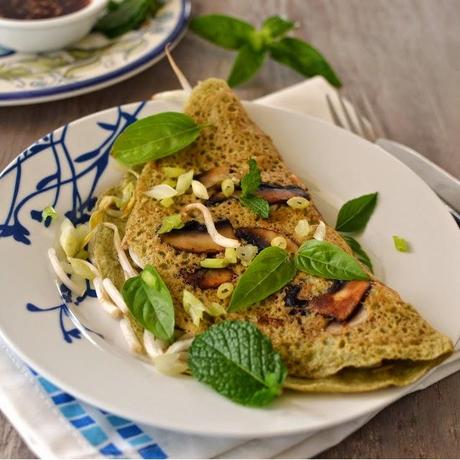 The only disappointment I have with the recipe is that I halved it and wished I had made the whole recipe because the pancakes turned out great. I wasn't sure if the family would like it, but everyone really loved it and wanted more, which unfortunately I couldn't make because the batter requires overnight soaking. I enjoyed the fresh herbs as garnish on top. They make perfect weekend breakfast.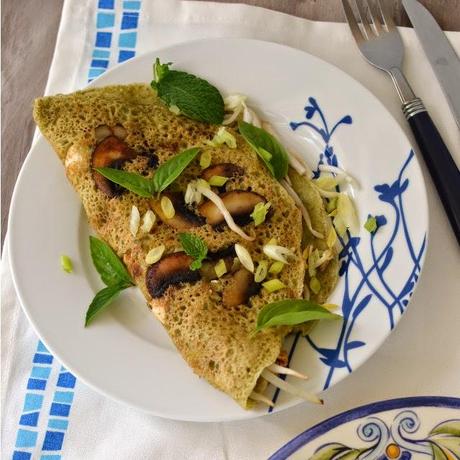 Ingredients
:
Long grain Jasmine rice - ½cup
Mung/ Moong beans - ½cup
Light coconut milk - ¼cup
Green Onions - 2~3, thinly sliced
Turmeric - a pinch
Mushrooms - 2 cups, sliced
Firm Tofu - 8 oz., drained into 16 thin slices
Bean Sprouts - 2 cups
Fresh herbs like basil, cilantro and/ or mint - 2 cups, for garnish
Salt - to taste
Vietnamese Dipping Sauce - for serving (recipe follows)
Method
:
Soak mung beans and rice overnight or at least for 8 hours. Rinse and drain soaked rice and blend into a smooth paste using some water. Transfer to a large bowl.
Rinse and drain the mung beans and grind to a somewhat smooth paste. Add this to rice mixture along with coconut milk, green onions, turmeric and salt.
Heat 1tsp oil in a medium skillet over medium high heat. Add ¼cup mushrooms and 2 slices tofu, and stir-fry till the mushrooms are slightly tender.
Ladle in just enough batter to cover the veggies in the pan, swirling the pan to coat the bottom.
Reduce the heat to medium-low and cook for 3~5 minutes or until the bottom is crispy.
Scatter ¼cup bean sprouts over one side of the pancake; fold other side over to form a half moon.
Cook the pancake 1~2 minutes per side.
Repeat with the remaining batter and veggies to make a total of 6 pancakes. Garnish with fresh herbs and serve with Vietnamese Dipping Sauce (recipe follows),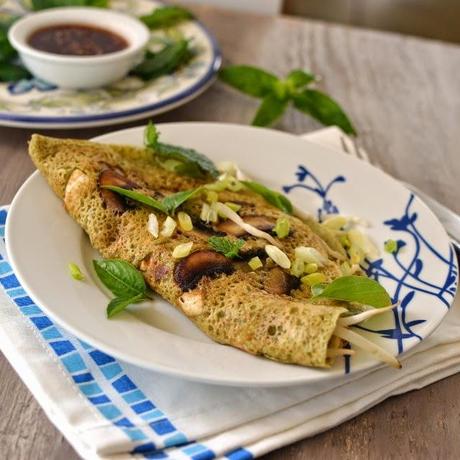 Vietnamese Dipping Sauce
: Mix up a large batch of this sauce and use to dress salads or dip dumplings and spring rolls.
Ingredients
: Lime juice - 1tbsp Sugar - 1tbsp Vegetarian Fish sauce - 1½tsp (recipe follows) Chile-garlic paste (like Sambal Oelek) - 1tsp
Method
:
Combine all the ingredients in a small bowl.
Vegetarian Fish Sauce
: This is a great alternative to store-bought vegetarian fish sauce and will keep in the fridge for up to 1 week.
Ingredients
: Turbinado Sugar - ¼cup (I used light brown sugar) Low-sodium soy sauce - ¼cup Unseasoned Rice Vinegar - 3tbsp Lime juice - 2tsp Garlic - 4 cloves, minced Red Thai bird chile - 1, finely chopped
Method
:
Stir 5tbsp boiling water into sugar in small bowl.
Cool, then stir in remaining ingredients.

Check out the 
Blogging Marathon page for the other Blogging Marathoners doing BM# 44.

An InLinkz Link-up