Jewish history in Vienna goes back almost 900 years. In the 19th and 20th centuries, Vienna was one of Europe's most prominent centers for Jewish Culture. As a result, there are quite a few interesting places to visit in the city.
Many of the best sites are located in Vienna's Jewish Quarter, and many are worth visiting. We created an itinerary for our own use, and as usual, we're sharing it with you. So here's our Vienna walking tour of the Jewish Quarter.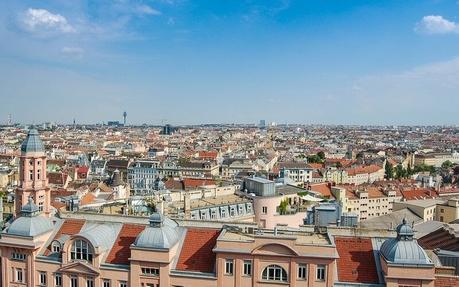 ⓘ
TIP: It's best to start in the late morning, as the whole tour won't take too long.
Jewish Quarter, Vienna tour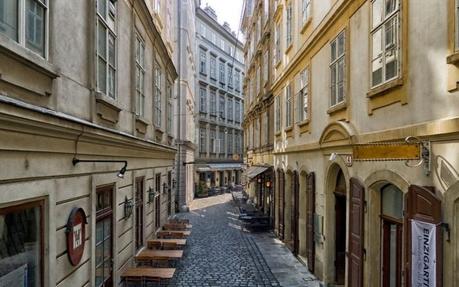 When visiting Vienna, the Jewish Quarter is an area that you simply must visit! There are plenty of interesting buildings to explore, each with a fascinating history that's sure to blow you away. Here's what you should be doing during your Vienna city tour of the Jewish Quarter:
Nestroyplatz
Starting in the Modern Jewish Quarter is this historic theater. Nestroy Hof Jewish Theater was once the center of Jewish culture in Vienna, but was closed by the National Socialists in 1938.
It was reopened in 2003 for the citizens of Vienna to enjoy joyous performances once again. The theater is old, but has been restored to its former glory. Luckily for travelers, tickets to a show are reasonably priced so be sure to book if you have enough time.
Next, you should visit Leopoldstädter Temple, which was once the largest synagogue in Vienna. After being built in 1858, the temple was later destroyed during Kristallnacht in 1938. Now only four white columns and a plaque remain.
Kristallnacht is also known as the night of broken glass, as broken glass was lay shattered in the street after parliamentary carried out a violent riot against the Austrian Jews in 1938. Their shops, homes, buildings and synagogues were ransacked, burned and smashed. Jews were also assaulted and beaten.
In this area, you'll see a lot of Stolperstein. These are 10cmX10cm brass plaques containing the names of Austrian victims that were exterminated or persecuted by the Nazis during World War II. Although they are concentrated in this area, they can be found all over the city.
When you're ready to move on from the Modern Jewish Quarter, take the U-Bahn (U1) from Nestroyplatz to Schwedenplatz and continue on to Stadttempel. This will save you a kilometer's walk (about 15 minutes).
Stadttempel Synagogue
Stadttempel is the main synagogue in Vienna and is located in Innere Stadt. The temples' construction was finished in 1826, but it was built in a way that hides it from street view. This is because, at the time, there was a law stating that only Roman Catholic Churches were allowed to be built with facades facing the streets.
The synagogue is built in an oval shape and contains a two-tier gallery that's supported by twelve pillars. The building has been renovated 3 times throughout its lifetime to ensure it remains as beautiful as it was when it was first built.
Visiting the Stadttempel is a must-do activity while you're in Vienna, but make sure you book before you go. Bookings can be made on their website prior to your visit.
Judenplatz Holocaust Memorial and Square
Judenplatz Square is just off Ledererhof road and makes for the perfect stop during your Jewish Quarter walking tour.
Judenplatz is comprised of two main parts, the Schulhof and the Southern part of the square which is referred to as Judenplatz. Here you'll find a cobblestone square surrounded by hotels, boutiques, and restaurants.
In this part of the square, you'll see a statue of Gotthold Ephraim Lessing, who was a German writer, dramatist, philosopher, publicist, and art critic during the 1700s.
The Judenplatz Holocaust Memorial is also known as the nameless library, and acts as a central memorial for all the Austrian Holocaust victims. The memorial is made of steel and concrete and the outside surface is library shelves that have been turned inside out.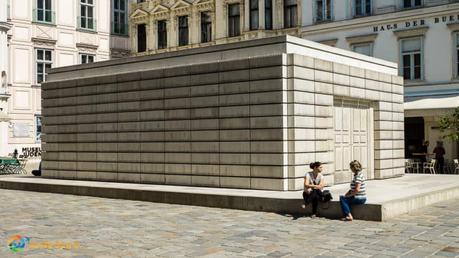 The memorial has a striking contrast to other beautiful buildings in Vienna, as it is fairly plain. This was intended by the artist so that it would stand out from the other buildings.
Judenplatz Museum
The Museum in Judenplatz Square is a must-visit on all Jewish Quarter walking tours. It overlooks Schulhof, so you'll be able to find it easily from your last stop. It combines three things - Rachel Whiteread's Memorial, the excavation of the medieval synagogue, and the museum of medieval jewelry.
Here, you'll learn about the religious, cultural, and social living conditions of the Jews who lived in Vienna. Displays cover eras from the middle-ages through to their expulsion in 1421.
The Rachel Whiteread Memorial is of vital importance to the Jews of Vienna. Around the memorial, you'll find tiles set into the ground that contain the names and places where Austrian Jews lost their lives during the Nazi period.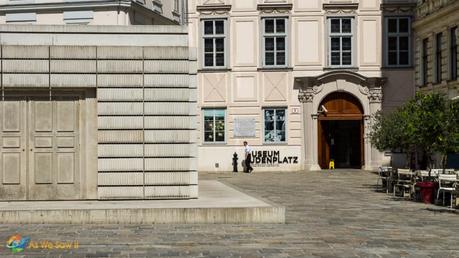 Ledererhof
You'll then come to Ledererhof, a small street that gives you a more intimate look at the lives of those who live in the area. Small apartment blocks are built up around the road, shading it from the midday sun.
Schulhof
Continue to Schulhof, which is in the center of the Jewish Quarter.
Until 1421, Schulhof (Jewish schoolyard) was apart of Judenstadt, but after the violent expulsion of the Jews at this time, the area was left to the Carmelite Monastery to serve as their cemetery.
The area is now referred to as Judenplatz (Jewish Square) because it was once the very center of Jewish life in Vienna.
Kurrentgasse
Kurrentgasse is the next stop on your walking tour, which is a very narrow alleyway/road near Judenplatz Square.
The best thing to do on this street is to pop into Backerei Arthur Grimm, which is a bakery that makes all kinds of fresh bread and pastries. The wonderful smell emanating from the small shop is more than enough to entice you inside.
The bakery is well renowned around the area, so pick up a take away and enjoy a freshly baked patisserie during your walking tour of Vienna.
Steindgasse
Just a minute's walk from Kurrentgasse, Steindgasse is a narrow alleyway lined with boutiques, luxury fashion brands, and high-end jewelry stores. You could spend the whole day window-shopping in this area, or make a special purchase to commemorate your trip to Vienna.
The alleyway is covered by a glass roof, which makes touring Vienna easy even when the weather is bad. It's also divided by trees and plants in the center, making it the perfect picturesque scene to take a few photos.
Kleeblattgasse
Kleeblattgasse is another short walk from Steindgasse, and it's a very vibrant part of the city. The street is wide and accommodates many buses every day. This street is also lined with fashion stores and other high-end retail.
There are many small alleyways leading off this road that are worth exploring. You might find a hidden gem clothing store or coffee shop that you wouldn't have known about otherwise!
This entire walking tour should take you around 30-minutes, not counting the time you spend at each place.
Other places to visit during your free walking tour in Vienna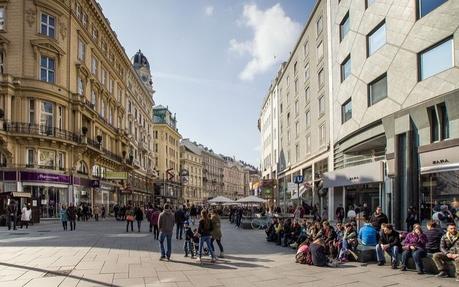 The places above all connect together making it a great route. However, if you're looking for a few more places to visit in the area, these sites deserve a quick detour!
St Peter's Catholic Church
St Peter's Catholic Church is absolutely stunning. The architecture and design will knock you off your feet. Gold edgings finish off the church perfectly and beautiful old paintings take you back to the time they were painted. It's not far from the other attractions we have mentioned, making it easily walkable.
Cafe Central
Although Cafe Central may sound like a quaint coffee house, it couldn't be further from it. This traditional Viennese cafe was once frequented by Freud and Trotsky and other great minds of its time. It boasts amazing marble ceilings and other ornate decorations.
You can sit down to order Viennese cuisine, or sip on a variety of different coffees while mulling over the bigger questions in life - like those who visited before you.
Wrapping up our Vienna walking tour of the Jewish Quarter
We thoroughly enjoyed walking through the cobbled lanes and alleyways of Venice and we're certain you will too! Feel as if you've stepped into a different century as you admire wonderful architecture and beautiful Vienna sightseeing attractions.
The Jewish Quarter is one that simply must be explored during your time in Vienna, along with a whole variety of other day trips from Vienna. Your Vienna walking tours await you!
Sign up below