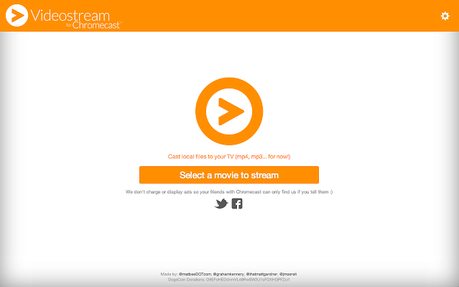 Videostream by Google Chromecast!
Google has not only evolved as the successful and most reliable search engine, but it has also developed several other applications which have enhanced the work performance. Regular Google users can very well notice novel and unique apps popping up from time to time. The beginning of this year saw Google opening up several apps on Chromecast SDK. One of the most popular amongst them is Videostream. In this fast pacing world, people hardly have enough time to wait for videos to come up. Hence, they require an easy app to immediately view several videos is very less time span. Videostream by Google Chromecast simply enables the user to stream every local video from personal computer, NAS and from several other network locations on to the big screen. Videostream can even read any virtual video or audio saved in system and automatically stream it up on to the big screen.
A source from Chromecast said, "We covered how to stream video content from your local computer to Chromecast via the Chrome browser in our series of Chromecast tips and tricks." The initial method of Chromecast was slightly clunky supporting only few file types. But a process of improvisations has indeed simplified the method as well.
How to get started with Videostream?
In order to start up with Videostream, the user needs to first download it from Chrome Web Store. It is essential to make note of Videostream being a Chrome app and not a browsing extension. Once the app is installed in the system, the user can track and detect it by clicking on the option of App Launcher which is readily present in the browser's toolbar. Also it is essential to first install Google Cast Chrome Extension.
The user can then simply send the music or video on big screen through Chromecast. Then the user needs to launch the app "Videostream" and further click on the option "Movie to play" button. Then the option to browse the location of the file will appear. The user can select the desired video that needs to be streamed on the big screen. The best part about Videostream is that the user can very easily and conveniently select the file from NAS, external drive, local drive, server or from any location selected on home network. Later, the user needs to select upon the Chromecast browser for streaming the content of the media into it.
Videostream works with the help of FFmpeg. What is FFmpeg? FFmpeg is basically a framework that is used for trans-coding video files with great ease and convenience. It enables and facilitates Videostream in converting any type of file further leading it to streamlining to Chromecast. This is the reason behind the success of Chromecast's Videostream.
For users who are bored of using computer or laptop can easily download Videostream Chromecast Remote specially made for Android OS smartphones. This app enables the user to control volume, playback, playlists, etc… easily from any tablet or smartphone which is Android enabled. Unfortunately this app is not available for iPhone users.