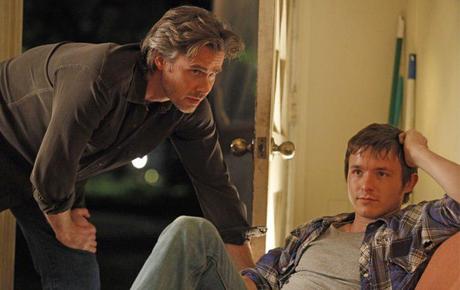 One of the big cliffhangers at the end of Season 3 of HBO's True Blood was whether Sam Merlotte really shot his brother Tommy.  Marshall Allman, who plays Tommy, isn't telling what exactly happened but he does confirm that Tommy is alive and kicking in Season 4.  Allman spoke to EOnline.com and he had this to say about the cliffhanger:
"Sam is a bastard. And he shot me. Or he missed. Or he shot me and I lived…What we know is that he shot at me, and where the bullet landed, we have yet to [learn]. But I'm not dead."
Allman says that at the beginning of Season 4 they are dealing with the fallout of Sam shooting at Tommy and he says he hopes they manage to build a close relationship.  One thing Tommy has always lacked is someone who cares about him and he's hopeful that Sam can be that person.
As you will remember from Season 3, Tommy had a huge crush on Jessica, the baby vampire created by Bill Compton, but Jessica's heart continued to belong to Hoyt.  Will that crush continue in Season 4?  According to Allman he thinks Tommy will always have a crush on her because she was his first "hot vampire crush".  Recent spoilers have hinted that its not all sunshine and daisies for Hoyt and Jessica this season so maybe this will be Tommy's chance!  Just under 3 weeks until we see how this storyline and all the others play out!
Source:  EOnline.com – True Blood's Shapeshifting Brother "Still Has a Big Crush on Jessica".
Video Credit:  EOnline.com
Photo Credit: HBO, Inc.