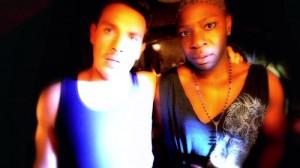 E! Online's Watch with Kristin sat down with True Blood's resident brujo, Kevin Alejandro, to talk about all things relating to Jesus and Lafayette, whether Jesus is good or bad, and whether or not Jesus will meet his end anytime soon. It also sounds like we're going to learn sometime soon just how Lafayette fits into the whole Moon Goddess Emporium wiccan coven, and Alejandro reveals that the coven is going to have A LOT of interaction with Bill and Sookie. Check out some excerpts from the interview below.
On Jesus and Lala's relationship:
"You know, I think what makes Jesus and Lafayette work is just how opposite of each other they are. There's a nice balance. I think with any relationship you need a balance, you know, you can't have too much of one thing without tipping the scale in the direction that doesn't need to be tipped… He's a lot more adventurous and risqué, so to speak, and I'm a little bit more normal… This season is a really great season for both of us."
Is Jesus a good witch or a bad witch?
"You never know.  It's True Blood."
Will the coven actually raise a dead human??
"I know whether or not that's going to happen and I'm not going to tell you! It may or may not happen… I guarantee you you will not be disappointed (this season). If you're a True Blood fan, this is very much the season to watch. It sort of ties everything together and it goes in extreme directions and everyone is all over the place. Everyone gets a lot of air time and really great mini adventures they go on."
Watch the interview in its entirety below.
Source: Watch with Kristin – True Blood's Kevin Alejandro Talks Jesus and Lafayette's Love Affair
Photo Credit: HBO