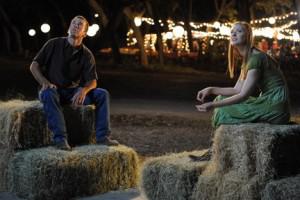 Season 4 of True Blood has been a big one for Jessica Hamby, played by Deborah Ann Woll.  She is learning to come to terms with her vampire nature, broke up with her boyfriend Hoyt and moved on to his best friend Jason, all while dealing with a brewing battle between witches and vampires.  Woll has really shined in her role on True Blood and has been working on several other projects as well.  One of her movies, entitled 'Seven Days In Utopia', co-stars Robert Duvall, Melissa Leo and Lucas Black where she plays Sarah, a potential love interest for Black's character. 
"SEVEN DAYS IN UTOPIA follows the story of Luke Chisolm (Lucas Black), a talented young golfer set on making the pro tour. When his first big shot turns out to be a very public disaster, Luke escapes the pressures of the game and finds himself unexpectedly stranded in Utopia, Texas, home to eccentric rancher Johnny Crawford (Robert Duvall). But Johnny's more than meets the eye, and his profound ways of looking at life force Luke to question not only his past choices, but his direction for the future."
The movie is based on David L. Cook's best selling book "Golf's Sacred Journey: Seven Days At The Links of Utopia" and hits theaters September 2, 2011.  Below you can check out the movie's trailer as well as a clip featuring Woll.  Let us know what you think and if you will be seeing the movie when it hits theaters, in the comment section below.
Source:  Movieweb.com – EXCLUSIVE: Seven Days in Utopia Clip
Sevendaysinutopia.com
Photo Credit:  Van Redin, Sevendaysinutopia.com
Video Credit:  Movieweb.com and Sevendaysinutopia.com