Lots of True Blood season 4 spoilers and teasers are coming out of this year's Comic-Con and TV Line's Michael Ausiello has been right in the middle of all things True Blood related (it helps that he's a huge fan of the show). This time around he sat down with True Blood's creator Alan Ball to try and get to the bottom of a few very large questions revolving around a potential threesome with Sookie, Eric, and Bill, the new love connection between Jason and Jessica, and just how high we can expect the body count to get by the season finale in September.
Ball revealed that the couple he most loved writing about / for this season is Jason and Jessica and, unfortunately, Jessica and Hoyt fans may not be exceptionally happy with how things turn out for the struggling couple. Ball also confirmed that there will be some kind of "vision" of Sookie, Eric, and Bill threesome in an upcoming episode and, while it won't be a scene full of writhing naked bodies, there are plenty of other writhing naked scenes (not necessarily of Sookie, Eric, or Bill) in upcoming episodes. Ball went on to gush about how much he loves Kristin Bauer van Straten (vampire Pam) and that we can expect her to drop one of the most awesome and memorable Pam lines ever sometime soon. The biggest bomb Ball dropped is that we will lose a handful of major character before the end of the season. What we'd love to know is what Ball means by major. Major as in major characters from all four seasons or major characters from just season 4?? What do you think, Truebies?
Click on the image below to watch the entire interview.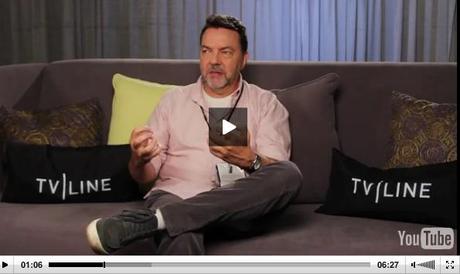 Source: TV Line - True Blood Boss On Bill-Sookie-Eric Threesome Buzz, Jessica's New Crush and Major Deaths!
Photo Credit: TV Line