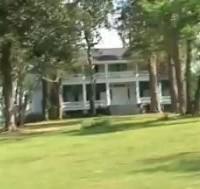 Below are some videos of locations in True Blood taken by Bobby Flynn. He says that he knows a lot of people are crazy about True Blood and he is too, so he thought since he lived in Shreveport, where they filmed some of True Blood he decided to check out a few places and share them with the fans.
The first one is Bill Compton's house. He says that there was no where to pull over to get a better shot.
In the opening theme song from True Blood and you will see this house. It is a very old house which no one lives in right now and it appears they are redoing it. As all True Blood fans know, the house is located in Shreveport La.
If you watch the opening credits and watch you will see Lucky Liquor. It is also located in Shreveport La.
 
source: Myiphonerocks.com