In this interview below from Wondercon, Buzz Focus, discusses True Blood Season 4 with True Blood's original music composer, Nathan Barr.
Click on the image to watch the video.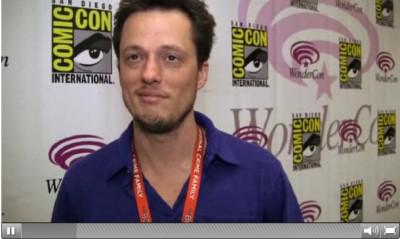 Barr has created a style of his own, coming a long way since working as an assistant to living legend Hans Zimmer. He remarks on creating a real-world atmosphere for True Blood, as well as what will be different about the Fairies in Season 4 from fairies you've seen in other genres. Barr also discusses changes in Tara's character that began in Season 3 as well as his favorite supernatural character to compose music for.
In regards to Season 4, Barr lets us know that we'll be in for something very different in the first 10 minutes of the True Blood premiere as well as new characters in the works. He also discusses having a complete orchestra this season which hasn't yet been done on the show.
source: buzzfocus.com