Have you thought about creating cool videos to impress others with? A great way to achieve that is by creating a video montage, which is a commonly used technique in filmmaking where you collect a series of short shots and edit them into a sequence to convey more information in a little time. A short montage about someone's life, or their achievements, on their special day, could serve as a fun and memorable activity. The good thing about making a video montage is that you don't need complicated equipment or a degree in filmmaking to make it possible. You can use a video editing software like Movavi Video Editor to create professional videos.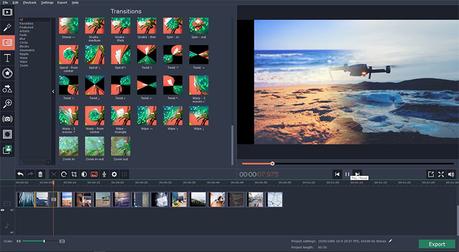 Movavi Video Editor is a brilliant user-friendly software allowing you to effortlessly edit your videos/photos to create your very own movies. Movavi can be used as your personal montage maker. It lets you edit your clips with various editing tools and enables you to add filters, transitions, text and special effects. What makes it unique is that it provides countless tutorials and walkthroughs available both online and in the software for quick learning. The free trial version is downloadable and takes a few minutes to install. To enjoy the full benefits of the video editing platform you have to dish out a nominal $39.95.
The montage maker allows you to edit your imported videos or photos with ease. You can effortlessly cut or crop parts of your video that you don't like and add effects for a classy finish. The video editor is filled with various filters, transitions and other useful effects. To apply any effect, you simply have to drag and drop it on your clip on the timeline. To apply an effect on all clips simply right click and select 'Apply to all Clips' and you are good to go.
The star on top of your clip shows you what effect you have applied to it, thus in case you change your mind and want to remove a certain filter or effect you can view it by clicking the star, selecting the filter you dislike and then pressing the remove button. It's that easy!
Other Features
Movavi is great for social media enthusiasts. If you make video blogs or do game reviews, you can make use of the Audio Recording feature to add your own distinct voice to your clips as well as the Webcam Capture feature to record videos of yourself and then upload them to your Youtube account. Yes, the software gives complete control and accessibility to users to share their work directly online. Furthermore, all the major audio and video formats are supported by the program, so you may import and edit your favorite audio/video clips from your computer and export them in a format you desire to save on your computer. The program also has other useful features which include:
Intel Hardware Acceleration support allows an unhindered workflow for a great editing experience.
Audio Editing tools for audio tweaking like noise cancellation, normalization of distorted audio, beat detection to sync with the video and numerous distortion effects provide an artistic approach.
Chroma Key feature for countless background applications.
Video Effects include slow motion effect for a dramatic twist to your videos, color adjustment and image stabilization.
User Tips
To simplify the usage of this application provided below are a few tips to help you maximize your video editing potential:
Import your desired clips that you want to transform into a movie. To create a montage, it would be advisable to add videos that follow the same theme, like snippets from your school years.
Choose the appropriate title, background music and special effects that satisfy you
Possibly, some of your clips could be from a cell-phone. Use features like video stabilization and audio beat detection for a professional touch.
Finally, save your movie in your desired video format so you can review it later and share it willingly.
There you have it! Using Movavi Video Editor as your personal montage maker you can make indelible moments that remain in the hearts of your guests for a long time.