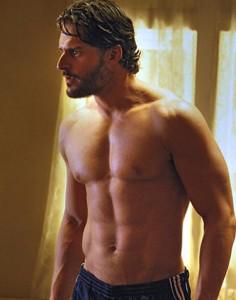 True Blood's Joe Manganiello (Alcide Herveaux) attended Fashion Week in New York recently and he spoke to Fashion News Live about the styles on the runway, his personal fashion style and working on True Blood.  Let's face it – the cast of the hit show doesn't have an extensive wardrobe given that they are normally either fully undressed or shirtless at a minimum.  Apparently they actually wear clothes off screen given that many of them were spotted during Fashion Week.  Watch the video below to hear Manganiello describe his "designer lumberjack style", share his thoughts on the Perry Ellis show and what he really thinks about the True Blood cast.  Enjoy!
Source: YouTube.com – FashionNewsLive
Video Credit: YouTube.com – FashionNewsLive
Photo Credit: HBO, Inc.