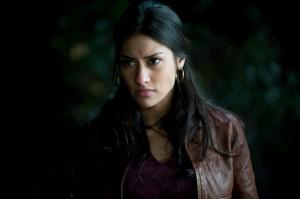 The Q Side recently interviewed Janina Gavankar (Luna) as their number one music artist to watch. Yes that's right. In addition to being a kickass actress, Gavankar is has decided to release a single while on hiatus. The track is called Waiting for Godot and is part of the effort Janina is trying to make as a musician. (She got signed by Randy Jackson of American Idol.) Watch the video below, starting at 7:04, to see what she has to say about her music and what inspired it!
True Blood Fan Source thanks Dani Dalesandro of Sunshine Sachs for sharing this video with us!
Source: YouTube.com- Loud – Top 3 Music Artists You Need To Know – The Q Side
Image Credit: HBO, Inc.