This week I posted a Facebook note about the law, this was after I had a stressful but triumphant run in with the magistrates court. The entire process was intimidating but I gathered the courage because I strongly felt – with fact – taken advantage of. So I stood up for my rights and made myself heard but Her Worship Oosthuizen comfortably assisted me by serving the perpetrators with an order in my favour. This personal victory made me think of the controversial Chief Justice Mokgoeng Mokgoeng and his passion for access to justice. How I wish someone can profile this individual and the values that he stands for, not saying that all of them are easy to stand by.The CJ's ideal world is where all citizens are equal in the eyes of the law and this would involve the education of the citizens about the laws & policies of the country so that ordinary people like myself know what their rights and exercise them.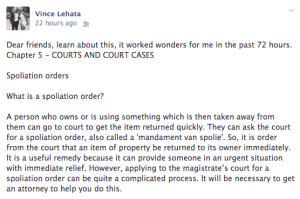 Spoliation Order definition. 
                                                                                                click to enlarge image
In the social media society, laws & policies were also put into the spot light this week when Facebook was criticized for its policy stance on the posting of graphic video content. The social media giant announced on Tuesday that they had reviewed their policy on the posting of graphic content such as beheadings. The networking site felt as long as the content is posted with the aim to condemn violence then they were not bothered. But social netizens were dissatisfied about this review. High profile individuals such as the British Prime Minister David Cameron were vocal in opposing this position. The uproar came after a video was posted showing the beheading of a female and the comments on this "status update" were not favourable. Simply put, this update this not receive a lot of 

" class="alignnone size-full wp-image-6090" />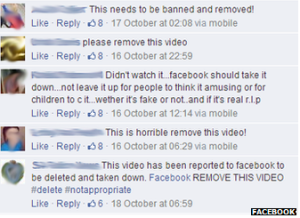 " class="size-medium wp-image-6091 aligncenter" />
 click to enlarge image
The outcry from various sectors of the society eventually forced Facebook to reconsider their policy. In a statement issued on 23 October 2013, the NYSE listed company said it would "strengthen the enforcement" of policies on graphic content and any posts which celebrate violence would be removed. This is two days after the initial official policy review.
Despite the back & forth which some would regard as a stain on the reputation of Facebook, on another hand it can be viewed as a wise move when considering how video content is earmarked as the next best form of content. According to this report  http://bit.ly/1hctKCs  by the Content Marketing Institute – 70 % of B2C Marketers used video content in their marketing mix of content distribution . Read about more findings on the link provided earlier.- this research was conducted in the North American segment.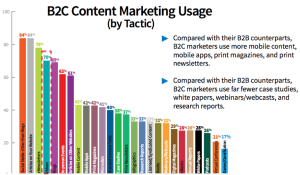 " width="300" class="size-medium wp-image-6093 aligncenter" height="175" />
                                                                                     click to enlarge image
On the local front there are videos that have gone viral this year, one of those is this one >>> http://enitiate.me/2013/03/04/a-mobilevideo-brought-the-daveyton-policebrutality-case-to-publics-attention/  - similarly to the Facebook matter, the outcry of the those that came across this content lead to legal action and there were individuals who were brought to book.
Things to note regarding this post are the following :
1. Video content has higher chances of to going viral.
2. There is a need for clear policy to guide the contents of video content and the publication thereof.
3. Video content has more chances of engagement.
To augment the latter statement of the 3 things to note, earlier this week a celebrated radio/music personality Dj Glen Lewis posted a video on his Facebook timeline. This video has received fair-to – good engagement, not because it depicts anything graphically violent but to the contrary it is a light hearted post…see for yourself.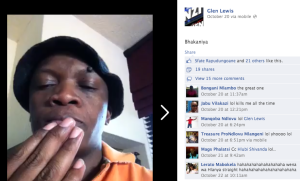 " width="300" class="size-medium wp-image-6095 aligncenter" height="180" />Click on the link to see the video Bakhaniya_Glen Lewis
On 20 October this video received :
19 Shares  ; 21 Likes ; +17 Comments
On 25 September when this video was 1st published it received :
78 Shares ; 18 Likes ;  +15 Comments
There definitely was reach & amplification & impressions. Imagine if this was a paid video with advertisers on it ?
We published a video post on 20 October as InMarketingSpeak, the post was tittled : I'm not a Vendor, I'm Zulu. If you have'nt seen it click on the highlighted link & post your comments.