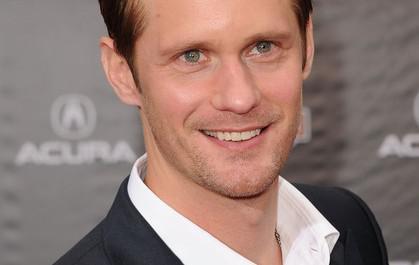 When the opprotunity came up to do Battleship, Alexander Skarsgård (Eric Northman) was just coming off of Lars von Trier's Melancholia. He told MTV what drew him to the project which is the complete opposite of Melancholia was the contrast and the characters:
"I was working on 'Melancholia' right before this, which is a Lars von Trier, European art-house movie. So I was excited about the combination of doing those two back-to-back..But then it was also the fact that Pete is an actor and he knows actors and he cares about the characters. … [He] talked more about the characters and the relationships than how amazing the explosions would look."
In the film Alexander plays Stone Hopper and in the clip, Stone is trying to get through to his younger brother played by Taylor Kitsch who seems to be distracted by the opposite sex. Watch:
Get More: Movie Trailers, Movies Blog
What do you think of this sneak peak Truebies? Are you ready to see Alexander in something completely different? Tell me in the comments below!
Source: MTV.com- Exclusive 'Battleship': Taylor Kitsch Gets Flirty With Brooklyn Decker"
Image Credit: Jason Merritt, Getty Images