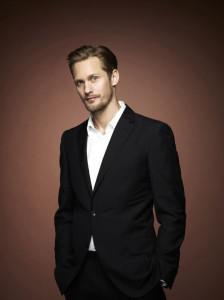 Alexander Skarsgard's new movie 'Straw Dogs' hit theaters on Friday and he has been busy doing interviews to promote the movie.  He sat down with Extra and spoke about the dark nature of the film, the fight scenes with friend James Marsden, diets, Lady Gaga and some funny comments Stephen Moyer made recently about Alex's modesty sock and intimate scenes with Anna Paquin.  You can watch his interview below!
Source: ExtraTv.warnerbros.com – Alexander Skarsgard "I've Never Been on a Diet"
Video Source: Youtube.com – fangstube
Photo Credit: HBO, Inc.