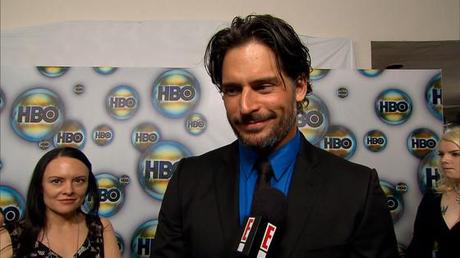 The wait for True Blood Season Five to start could kill us all!  But as each day passes we are close to the season premiere.  As most of you trubies know HBO had their own Golden Globe party on Sunday and most of the True Blood cast went to that event.  MTV had the chance to talk to a few different cast members about their characters for the up coming season.
Ryan Kwanten (Jason) had this to say about his character:
"Jason is hanging onto every shred of humanity as it is, and he was lucky to survive last season.  This season he's finally becoming a man, I think.  He's got responsibility in his life.  He's in a position of authority too because Andy is not doing too well with being a sheriff."
Sounds like this season for Jason is going to be one where he finally grows up.
When they found Janina Gavankar (Luna) she brought up her characters relationship with Sam saying:
"I will always have hope for Sam.  They are meant to be.  Nobody understands you like another shifter."
Could this mean Sam finally found someone to love him back?   Let's hope so.
The next person they talked to was Carrie Preston (Arlene) who had great news on the story line with the baby saying that the plot line with the demon baby is over.  She also gave us a clue about Scott Foley's mysterious character Patrick Devins by saying:
"He's definitely there to muddy the waters a little bit.  It wouldn't be True Blood if you didn't have conflict, so I think it makes for a very interesting dynamic with Terry and Arlene this season."
The last person they were able to chat with was Joe Manganiello (Alcide).  He had some interesting thing things to say about Alcide going to the dark side.
"We've seen that he's a sweet guy; we've seen that he's the kind of guy that would be in a great relationship.  I think that you're going to be introduced to a side of him that's going to slam you up against the wall and go for it."
Watch the entire video below:
Get More: Music News
By the sounds of what everyone is saying their own character it's going to be another rollercoaster ride that we are going to love.  What are you looking forward to in the new season?
Source: MTV.com –Joe Manganiello's 'True Blood' Plans? 'Slam You Up Against The Wall And Go For It'!
Image Credit: Eonline.com