September 2015's National Holiday was given a victorious slant, celebrating and commemorating the Chinese victory over Japan during World War Two. I wasn't bothered about that business, however it was fared to be a beautiful September weekend in Wuhan, China. I am going to turn back the hands of time to that Victory Day weekend, Wuhan slayed in all areas!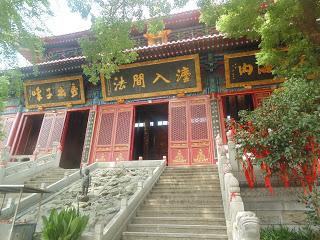 Rewinding back to September 2015 I was in completely different head-space, I had literally started at my Kindergarten for two days and we had my very first National Holiday on the 3rd of September 2015! Along with a friend who I thought was special to me we embarked on the first stage of that Victory Day weekend, I had pointed out a list of places I wanted to see in Wuhan and those wishes were made true! Baotong Temple had been on my radar during my first two months in Wuhan but my previous training school job didn't allow me enough time to do anything! The quiet surroundings of Baotong Temple made for a beautiful start to that holiday in Hubei's provincial city. I wrote a quick message to the gods, channeling nothing but positive energy and good vibes for my time in China I was feeling centred and very blessed! The stillness of the temple acted as the perfect contradiction to frantic mode of the city outside.
Since moving to Wuhan, China I hadn't experienced any National Holidays until that point, I was hoping to leave Hubei province but my wings had been clipped during that period due to my visa renewal, I was contented staying in Wuhan for that September break because at that point I had merely scratched the surface. I was learning that temples were great places to visit to clear my mind and to block out the modern world around me if only for a short space of time. The time up until that Victory Day point had seen my China experience turned on its head, I had got back upon my feet and was getting to some serious sightseeing in Wuhan! Things had got down right down scandalous! Aside from my tour of Wuhan I caught a glimpse of the Victory Day parade that had graced Beijing earlier that day, how the sky was so clear and blue! Baotong Temple kick-started that September holiday with the right amount of positive energy! Take me east, take me to that lake W!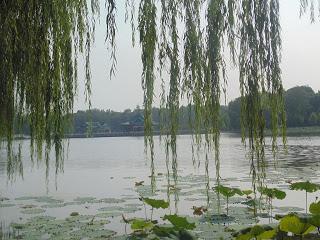 I had already heard a lot about Wuhan's famous East Lake, it was on my shortlist for certain! Checking out the Tingtao Scenic Area, I didn't know that at the time because I wasn't very au fait with the different parts of East Lake at that early point of my life in China. Walking alongside the waters edge felt so relaxing, I got the right snaps of the lotus flowers because I was on my Victory Day blogging hype without even thinking about it! The heat of summer was fading, leaving a comfortable after-glow that felt just right compared to sweltering temperatures that July and August 2015 had served in Wuhan! People were out and about loving the weather within the Tingtao Scenic Area around China's biggest inner-city lake, it was turning out just fine! I catch a glimpse of the Hubei Provincial Museum but I knew I would get round to visit that home of Hubei's secrets and past. Of course, the day was showing me everything!
The first part of my Victory Day weekend was drawing to a close, heading back to my flat in Guanggu I was unsure what the evening ahead have in store for me. Dozing off, I received a phone call from my friend to get up and make my way to Wangjiadun East metro station for a night out along the riverfront. Renting some pedalos it was a fun night messing about on that lake, getting our drinks from 'Beer Barn' a new fridge concept bar that I hadn't expected to see in Wuhan but it sold a wide range of spirits, beers and wines! I noticed some familiar brews from England, going by the name of Samuel Smiths! For what they wanted I stuck to a six-pack of Corona! Being a busy one the first day of my first Victory Day holiday was a success, I was very much looking forward to seeing more delights within the city of Wuhan the next day! Even though I didn't make it outside the province of Hubei I could feel that Wuhan had a lot to offer in its own right. Yes Wuhan, I was feeling victorious!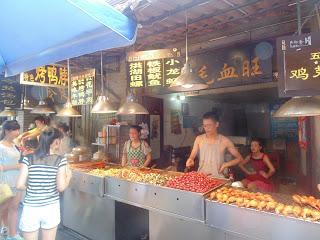 Food glorious food! Bright and early on the second day of Victory Day weekend 2015 it was time for me to experience the historic food street that's famed for its street food favourites. Hubu Xiang held the key to a whole lot of crazy during that September weekend, I had stumbled upon this foodie alley during the day that I visited Wuhan's Yellow Crane Tower but I didn't fancy tackling the crowds then. A second time around I was ready for the mayhem, forging into the bustling scene it didn't take long to see the peculiar and down right crazy food options that were on offer! I wasn't up for chowing down on a pigs trotter or tail, no thanks Hubu Xiang! Grabbing a few bites that I can't quite remember I was bowled over by the smells that came from the many stalls, some aromas were lovely but other weren't so easy to deal with! I learned quick that Wuhan food was more than just 'Hot dry' noodles! I was hungry for more!
Typically speaking I had already found out pretty quick that Wuhan is a city that has many worthy points of interest but they require the knowledge of a local person to help unlock the key. Having a 'Wuhaner' with me was a blessing because I didn't have to worry about getting lost or wasting time going to places that weren't worth seeing, but in saying that I adore the alternative sights that might not be tourist appropriate. From the busyness of Hubu Xiang it was time to move away from the smells and chaos to another equally as mental part of the city. The previous day started off with a docile tone with the visit to Baotong Temple and East Lake but ended in a lively fashion with a few scoops before bedtime! After sorting out some drama and getting myself a new bank account it was back on the road to make the most of the holiday. I remember I had some rice filled chicken portions and a few other treats. At this rate the idea of going back to work wasn't a good one B!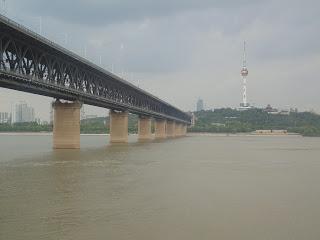 London may have the River Thames and Paris boasts the Seine but Wuhan, China serves the Yangtze River with all its might, by no means is it an illusion! Located only a stones throw from the crazy of Hubu Xiang the powerful waters of Hubei's premier waterway surged past, setting the scene for that cloudy Wuhan day perfectly! With view of Hanyang District in the near distance it set the scene, meanwhile the First Yangtze River Bridge wasn't the only crossing in-sight, in both directions several bridges were in my viewpoint and with talk of three more under-construction this Hubei river has some serious work to do! The river-tankers passed me by, either on their way to Chongqing in the west or maybe Shanghai to the east? Whichever way the river was flowing that day I was mesmirised by it's power and the growing skyline that could be seen from my viewpoint looked great for the future! River, keep rolling!
Taking a ferry for the first time it was time to check out a side of Hankou that I hadn't seen before, the short sail over was great as I saw the Yangtze River and Wuhan pass by in all its glory and urban craze! Heading for Lihuangpi Road for some coffee I got side-tracked by a brickwork style bar that looked right, trading a hot drink for an ice cold beer was just the ticket. The sun was setting on another amazing day of sightseeing during that September holiday but it was time for some food, choosing a trendy yet simple noodle shop I enjoyed the Taiwanese style noodles very much! That noodle shop was tucked away from the hustle and bustle of Hankou's Bund, ran by two young guys from Taiwan it was a winner winner noodle dinner! From Baotong Temple to being a one with the mighty Yangtze River I had an immense time during 2015's Victory Day weekend! Would there be another Victory Day? You already know that I'm ready for 2016's Mid-Autumn Festival! Thanks, WUH!
Victorious!
Joseph Harrison