Pay attention readers; this was an attempted robbery, not theft.  A gun for self defense was not necessary, and no one died.  This a constructive resolution.
A better effort at prevention would be to reduce the number of firearms that end up making that bad transfer through a variety of means, including careless and unsecure storage by gun owners contributing to theft, and irresponsible and unregulated private sales.
From MSNBC
Mugger left bloodied after attempt on MMA fighter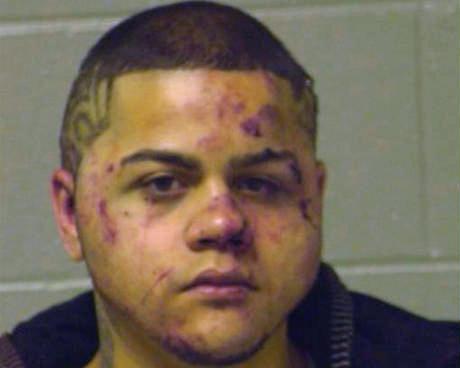 NBCChicago.comChicago police say Anthony Miranda tried to rob an MMA fighter.
By NBCChicago.comCHICAGO -- A convicted felon decided to mug an MMA fighter on the Southwest Side of Chicago, police say, and ended up paying a steep price.
Police did not release the victim's name but said he was able to ward off Anthony Miranda, 24, who ended up with two black eyes and a gunshot wound to the ankle after a tussle.
The victim was sitting in his parked car near 55th St. and Kenneth when Anthony Miranda, 24, walked up to the car asking for a lighter, according to the Chicago Sun-Times.
When the victim did not have one, Miranda pulled out a handgun and demanded money, police officials said. He then demanded the victim get out of the car.
Read original story on NBCChicago.com
At some point, the victim was able to grab control of the gun while Miranda's attention was diverted. The two men wrestled on the ground and during the fight, Miranda accidentally discharged his gun, shooting himself in the ankle, police said.
The victim was able to pin down Miranda until police arrived and later told officials he was a martial arts expert and ultimate fighting champion.
Miranda was taken to Holy Cross Hospital with a face full of cuts and two black eyes, police said. He has been charged with armed robbery and aggravated discharge of a firearm, a class X felony.
Records show Miranda has several convictions, including at least one for a residential burglary. He was ordered held on $350,000 bond Sunday.